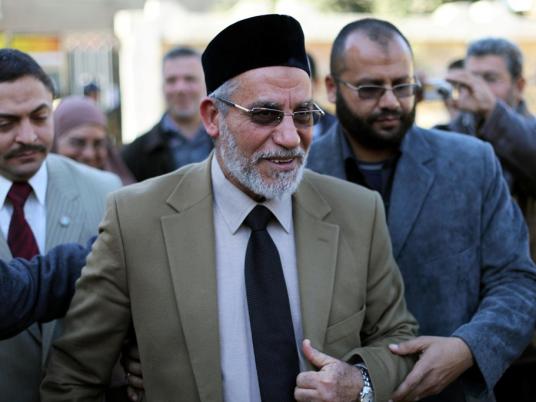 The Muslim Brotherhood is close to achieving the "ultimate goal" set by the group's founder Hassan al-Banna in 1928, which is the establishment of a "just and reasonable regime."
The project begins with the creation of a sound government and ends with the establishment of a just Islamic caliphate, said Mohamed Badie, the Supreme Guide of the Muslim Brotherhood in Egypt on Thursday, in his weekly message on the group's official website.
When the group first began its mission, it aimed at guiding and awakening the nation so that it could regain its position after a long period of delay and recession, said Badie.
He went on to describe the two key aims outlined by Banna at the group's sixth conference. The first objective was to increase group membership numbers. The second was the establishment of a long-term plan for the reform of all aspects of people's lives.
Banna specified stages through which the ultimate purpose could be achieved, said Badie. The first step is the reform of the individual, then building, in order, sound family units, a society, and a governance system, and finally establishing a caliphate system.
In this Thursday message, the supreme guide linked the Arab Spring to the ultimate aims of the Brotherhood, saying that the uprisings were intent on achieving specific targets, on which they refused to compromise.
"In this Arab Spring the revolutionary people's determination to achieve certain targets on which they were agreed, and never to compromise, was a major factor in the toppling of those oppressive regimes and every corrupt organization that oppressed those countries, corrupted them, plundered their resources and curbed their progress. We are now close to achieving the greater good of establishing a just ruling regime, including all its institutions and elements," said Badie.
He accused the opponents of the Brotherhood of attempting to hinder the group by creating unnecessary conflicts, which were in reality just "glamorous pretexts to tear the nation apart" and abort the revolution.
"We, following the light of Shura [counsel], are going forward, and we are committed to achieving the aims of the nation and of the revolution to which we aspire, including the representation of millions of Egyptians in a parliament that represents the nation and begins the establishment of the institutions of a just country and a just rule," said Badie.
The Muslim Brotherhood's Freedom and Justice Party won more votes than any other party in the first two stages of the parliamantary elections, with around 50 percent of seats in the People's Assembly.