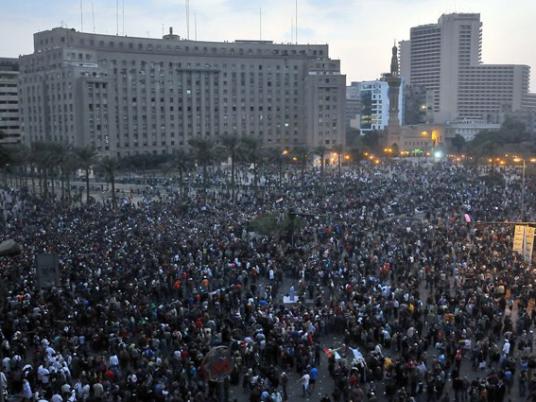 The Muslim Brotherhood's Freedom and Justice Party issued a statement on Monday announcing that it will not participate "in any sit-in or protest that may lead to more confrontations and congestion," the party wrote in a statement it issued to reporters.
"In the meantime, we will be striving along with other parties to abort the sedition that the interior ministry has instigated in the country," the statement said.
Cairo police on Monday fought protesters demanding an end to army rule for a third day on Monday and the death toll rose to at least 33, with many victims shot, in the worst violence since the uprising that toppled President Hosni Mubarak.
The party demanded that the ones repsonsible for the killing of potesters be brought to justice. In the meantime, it linked the Tahrir clashes to "desperate attempts made for months to halt the process of handing power over to the peoeple through the parliamentary elections."
As night fell, thousands of people packed Tahrir Square, the epicenter of the anti-Mubarak revolt in January and February. The clashes threaten to disrupt Egypt's first free parliamentary election in decades, due to start next Monday.
"The people want the fall of the marshal," they chanted, referring to Field Marshal Mohamed Hussein Tantawi, Mubarak's defense minister for two decades and head of the army council.
Clashes flared in side-streets near Tahrir. Witnesses said looters, not necessarily connected to the protests, had attacked the American University in Cairo and other buildings.
Protesters have brandished bullet casings in the square, where police moved in with batons and tear gas on Saturday against a protest then dominated by Islamists but since driven by young people with secular aims. Police deny using live fire.
Medical sources at Cairo's main morgue said 33 corpses had been received since Saturday, most with bullet wounds. One source at the morgue said the toll had risen to 46. At least 1,250 people have been wounded, a Health Ministry source said.