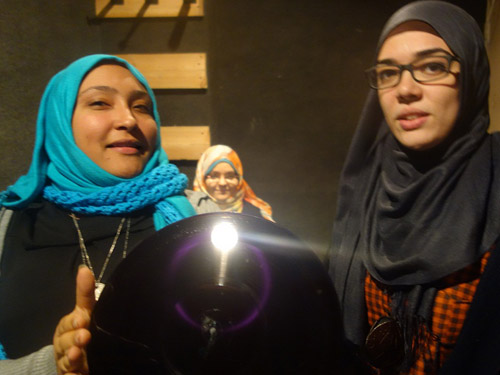 To make a vinyl record, grooves are cut into the lacquer on an aluminum disc. This "dubplate" is used to create a stamper from which records are mass-produced, but can also be played a limited number of times itself. In the new cutting suite at 100Copies, various computers culminate in a metallic red cutting head with a sapphire cutting stylus, which hovers over the disc to etch the grooves according to electronic signals.
"In the 1960s and 1970s, there were a lot of records coming out of Egypt, and those records are much sought after internationally," says Hari Shankar Kishore, aka HVAD, the man with the idea to set up the Cairo Dubplate Service.
"We want to bring that back," he adds ambitiously.
More immediately, the project is about "inspiring people to get into the studio and see their music transformed sound-wise and media-wise," says Kishore, a musician and sound engineer from Denmark who finds records pretty inspiring himself.
A long time ago Kishore's father, having moved to Denmark from India, bought 1000 LPs super cheap – for the equivalent of LE100 – from a record shop that was closing down. This meant there were a lot of records around when Kishore was growing up, and he says he started scratching records at eight years old and DJing professionally at 13. As he grew older, performed more widely, and made records, he realized he wanted to do the actual record-making himself. In 2009, he set up the Kommunal Dubplate Service in Denmark.
Mahmoud Refaat, who runs 100Copies, met Kishore in Copenhagen one night in 2010 when they were playing at the same venue. In spring 2011 Refaat approached the Danish Egyptian Dialogue Institute to ask if they could support Kishore's trip to Cairo to perform in 100Live, Refaat's yearly electronic music festival. DEDI responded with enthusiasm and Kishore contributed a frenetic experimental performance that was by all accounts memorable.
Later in 2011 DEDI issued a call for proposals on the topic of civil society and transition, and Refaat and Hari proposed setting up a sister studio to the Kommunal Dublate Service in Egypt, where apparently there is no vinyl pressing business still functioning.
"This is the sort of thing that makes me love my job," says Muna Bur of DEDI, explaining that the institute's idea of civil society is pretty broad.
Kishore has been in Cairo running a training workshop that started on 5 December and finishes on Saturday night with the live performance of a five-minute track that will then be mastered and cut in front of the audience.
"We're going to transfer the entire dubplate studio to the stage," he says.
The 12 workshop participants are of varied backgrounds, but each has their own artistic practice. Heba Rifaat is a professional vocalist, for example, and Nouran Sherif and Ola Saad are sound and visual artists. Some participants have worked together before. Each brought their own material.
These 12 had responded to an open call issued by 100Copies and DEDI. Musician, artist, and curator Yara Mekawie, a participant who has performed previously at 100Copies, says it was "super news" when she heard that vinyl cutting would be possible in Egypt again. While initially a selection process was planned, in the end, Kishore says, they didn't feel it was appropriate to exclude anyone.
Bur says that on the first day, when Kishore asked the participants to describe their relationship to music, the answers were pretty diverse. While one person sought to hypnotize people, another aimed to destroy music. Kishore says that whether produced out of a desire to control people's brainwaves or to cut up dialogue from old Egyptian movies, all this sound production should not be lost – which is where records can come in.
The first day of the workshop was spent recording, and after that they were mainly confined to the dubplate studio, learning how to digitally master sound specifically for records, and about the procedure of cutting the mastered sound onto a dubplate. Four full records have been made so far, Kishore says. A video of what they've been doing can be seen here.
The group, initially split into two, has now reunited in preparation for Saturday night. In the laughter-filled rehearsal, seven of the participants stood on stage and performed two seven-minute "compositions of improvisation," as Kishore puts it. Three used laptops, while others used a recorder, a drum, vocals, and a loudspeaker. The participants had discussions during each break, deciding who should play what and when. Kishore then brought the performers into the piece one by one.
On Saturday, after their new track is recorded and transferred to dubplate onstage, Kishore will grace Cairo with another performance of his own, billed as "sounds of avant-garde ghetto dance from Denmark and India."
Miriam Nessler, who plays recorder and came across the call for participants by chance on the 100Copies Facebook page, says she's now thinking about making electronic music, having not been into it before. Mekawie too says being part of this "musicians' team" has been amazing, and that she has high hopes for the dubplate studio's future.
Basel Nazmi is one of the participants who have been trained to use the dubplate studio and will be manning it after Kishore has gone back to Denmark. But meanwhile, Bur says that plans are in the pipeline to invite the workshop participants to Copenhagen to perform, and Kishore says he will be back in Cairo to visit the studio and work on its maintenance and development. "This is just the first step," he says.
The Cario Dubplate workshop participants perform tonight at 8pm, followed by a concert by DJ HVAD at 9pm at the 100Copies Music Space; 22 Talaat Harb Street, downtown, Cairo.
Photo courtesy of Hari Shankar Kishore
*Correction: This article previously stated that Miriam Nessler played clarinet. It has been corrected to indicate she plays recorder.