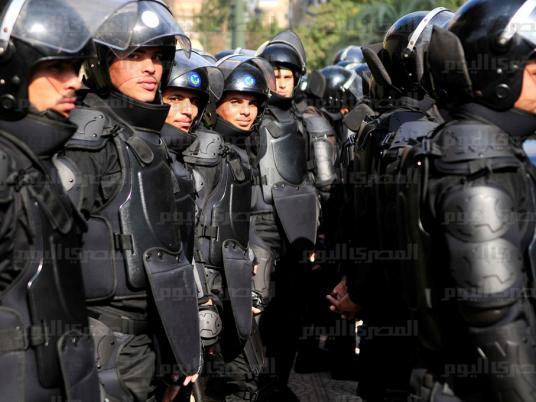 Hundreds of Central Security Forces of the Gamasa camp in Daqahliya went on strike Monday to protest the Shura Council holding them responsible for recent violence.
Striking personnel also condemned what they called the "Brotherhoodization" of the Interior Ministry.
"The Kafr al-Sheikh and Damietta governors mistreat us," said an officer speaking to Al-Masry Al-Youm on condition of anonymity. "They belong to the Muslim Brotherhood. Brotherhood leaders are allowed to enter our camp."
He said duty hours were increased to 12 hours and breaks were reduced. "This is too much when facing demonstrations and acts of violence," he said. "We asked more than once to make [our shifts] eight hours."
Another officer said they would gradually escalate the strike if their demands are not met.
East Delta Central Security Director Abdel Basset al-Azzazy visited the camp to in an attempt to resolve the problem.
Meanwhile, the Police Coalition staged protests in Hurghada Tuesday, demanding the activation of the Police Protection Act allowing police officers to carry guns.
Edited translation from Al-Masry Al-Youm