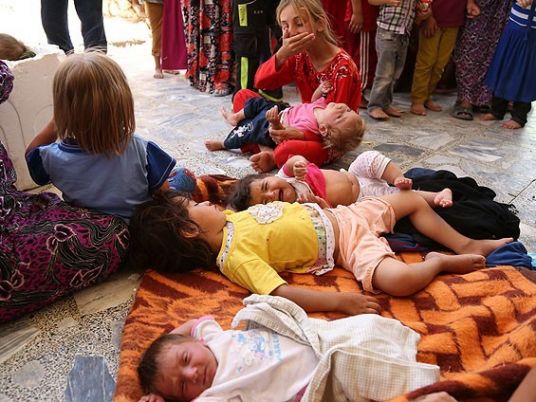 The number of people under the age of 18 in Egypt reached 38 million in 2017, making up 40 percent of total population, the Central Agency for Public Mobilization and Statistics (CAPMAS) announced.
There are 19.6 million boys in Egypt, equating to 51.7 percent of the child population, and 18.3 million girls, accounting for 48.3 percent.
The largest group of children were four years old and under, accounting for 34 percent of children, while the smallest group was 15-17 year olds, which made up 14.5 percent of children.
Net enrollment in kindergarten in the 2015/16 academic year was almost equal between both genders, with 28 percent of males and 27.9 percent of females aged four to five years old enrolled.
Enrollment in primary education was at a far higher rate for both genders, with 93.5 percent of five to 11 year old females enrolled in school, and 91.3 percent of males.
In preparatory education, which enrolls 12-14 year olds, 86.4 percent of females were enrolled, along with 80.6 percent of males.
CAPMAS reported that Egypt's total population reached 93.3 million in June 2017.
The male population increased from 46.6 million in June 2016 to 47.7 million in June 2017.
The female population climbed by the same number over the same period, from 44.5 million to 45.6 million.
Birth rates increased across all Governorates in the country, with Cairo retaining the highest rates, said Tariq Tawfiq, the rapporteur for the National Council for Population, in August.
Egypt's average birth rate remains high at four children per mother. If this rate continues, Egypt's population is expected to reach 128 million by 2030, he said. If, continued Tawfiq, the birth rate falls by just 0.5 to 3.5, the population is expected to reach 120 million by the same year.
Minister of Planning, Hala al-Saeed, warned in July that a continued high birth rate and significant population increases will hinder the government's efforts to implement economic reform.
Edited translation from Al-Masry Al-Youm