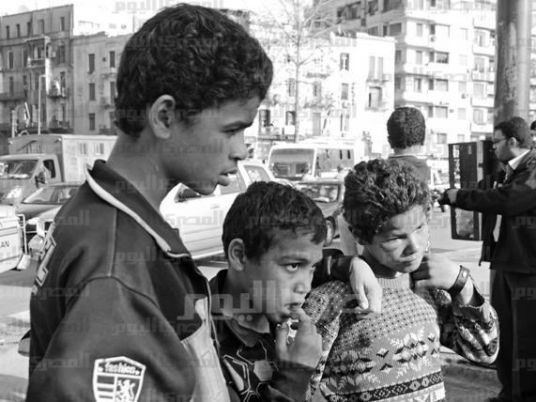 The Egyptian Coalition on Children's Rights
has dismissed the government's calculations of the number of Egyptian street children, arguing that no counts are acceptable as long as no exact definition of that social category is agreed upon.
A statement by the coalition urged to "avoid the declaration of any numbers that could stir controversy or delude everyone," adding that the National Council for Childhood and Motherhood (NCCM) had also rejected the ministry's numbers.
Social Solidarity Minister Ghadal Waly said in a conference on Monday that the number of street children, based on a survey it conducted in 2014, stands at 16,109 children living in 2,500 areas. She added that her ministry is adopting a strategy to address the phenomenon in collaboration with civil society groups.
Though the term "street children" is a persisting, poverty-triggered social phenomenon that civil society has struggled to handle for years, the actual definition is vague and can be widely interpreted. Many organizations have opted to abide by UNICEF's definition, which includes all children under 18 years of age that are either living or working in the street and are not adequately protected or supervised.
"There is a vast discrepancy in the numbers quoted, which reflects there is no agreement on the definition of street children," Hany Helal, the coalition's director, told Egypt Independent, adding that the uncertainty makes estimates range between 10,000 and 3.5 million.
An informed source from UNICEF told
Egypt Independent
the numbers are estimated by tens of thousands, based off of information compiled by multiple NGOs. The source added that the real numbers have large variations, evidenced by the UNICEF
website
, which quotes the numbers as between 600,000 and 1 million. The source explained the larger number is based off a 2001 report compiling other data from NGOs.
The only institution that is in charge of surveying such a phenomenon and related numbers is the government's Central Agency for Public Mobilization and Statistics (CAPMAS), Helal contends.
Helal, however, stressed that the phenomenon of street children is estimated to be growing in light of CAPMAS data pointing to surging poverty rates.
According to CAPMAS's statistics, poverty rates in Egypt stood at 26.3 percent of the population during the period 2013-2014, up from 16.7 percent in 1999.
The article was updated at 5:23 pm to clarify the source and variety of the UNICEF numbers on street children.