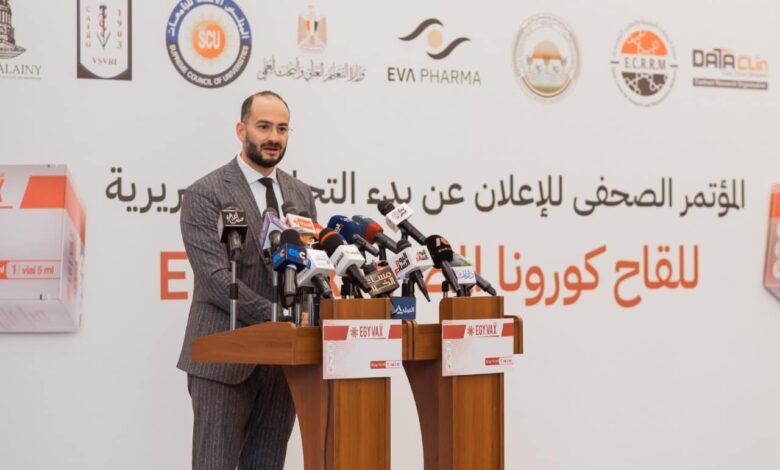 Egypt announced on Friday that clinical trials for the first locally-produced coronavirus vaccine, EgyVax, are now underway.
Minister of Higher Education and Scientific Research Khaled Abdel-Ghaffar, said during a joint press conference with Minister of Agriculture al-Sayed al-Quseir that the announcement represents a very important development in Egypt's fight against coronavirus over two years.
He added that working on a 100 percent Egyptian vaccine is unprecedented, and that "We are cooperating with all national and international authorities to be assured that safety and effectiveness are at the highest level."
Manufacturing the vaccine will save hard currency, he said, and that having the ability to manufacture vaccines is a 'national security issue'.
The CEO of Eva Pharma, the country's strategic partner in manufacturing the vaccine, Riad Armanios indicated that work is underway to build huge manufacturing capacities for producing vaccines within the company's industrial complexes in the 6th of October City – providing approximately 1.6 million doses per day.
And the head of the company's clinical research unit Samira Ezzat said that the first phase of clinical studies will be conducted on 45 volunteers, and that the protocol for that stage includes conducting analyzes and a complete health survey for the volunteer before the start of the study, which includes analyzes that must prove the absence of antibodies to the virus in the body.
A recent study showed a decline in the effectiveness of the Pfizer vaccine to protect children against Omicron infection, and Chinese scientists have created antibodies that can strike against the virus.
Another recent study showed that Pfizer vaccine provides very little protection for children aged five to 11 years-old, against Omicron, as it decreased from 68 percent to 12 percent during December 13 to January 24.