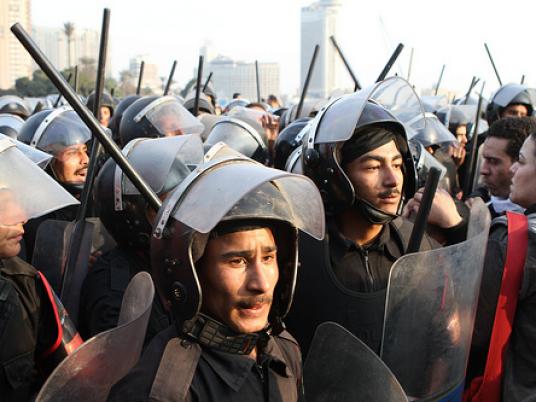 The interior minister sacked commander of the Central Security Forces (CSF) Maged Nouh on Friday, after he failed to contain the anger of the CSF officers who staged a sit-in in at least seven CSF camps in Cairo alone, Al-Masry Al-Youm reported.
Ashraf Abdallah, a long-serving CSF officer, has been appointed the new commander. His first task, Al-Masry Al-Youm reports, is to negotiate with the officers of the CSF and to convince them to end their strike.
Earlier, the website of state-run newspaper Al-Ahram had reported that on Thursday Abdallah met with leaders of the Central Security camps, and agreed to meet with their demands.
In relation to the crisis facing the security services, the Interior Ministry announced that it will hand over the headquarters of Port Security Directorate to the Armed Forces to secure, one day before the expected court ruling in the case of Port Said Massacre of February 2013, in which dozens of the city residents are defendants.
In a statement on its Facebook page, the ministry called on the people of the city of Port Said to "calm the situation and ensure the safety of all government and private establishments."
Two people were killed on Thursday in the fifth day of clashes between security forces and demonstrators in Port Said.
Clashes had erupted last Sunday in the vicinity of the Port Said Security Directorate after the Interior Ministry announced the transferal of the defendants of the Port Said case to Zagazig prison, awaiting the verdict.
In Alexandria, two marches started after Friday prayers from Al-Qaed Ibrahim Mosque, the first to the temporary headquarters of the governorate office in Kom Al-Dekka, and the second to the Mansheya Square.
The first march dominated the area around the governorate office, as the security forces stationed in front withdrew after limited clashes that resulted in the injury of a low-ranking policeman.
The commander of the force then ordered troops not to throw teargas, and to withdraw from the vicinity of the building. The forces lined up on the opposite side of the office without taking part in the events.
Demonstrators's demands included the stepping down of President Mohamed Morsy, the formation of a national salvation government, and the return of the army to run the country in cooperation with that government until new presidential elections can be held.
They also demanded the dismissal of the Prosecutor General and the trial of the Interior Minister Mohamed Ibrahim whom they hold responsible for the killing of demonstrators in Suez, Port Said, and other cities. They accused the minister of pursuing a policy of excessive violence against peaceful demonstrators.