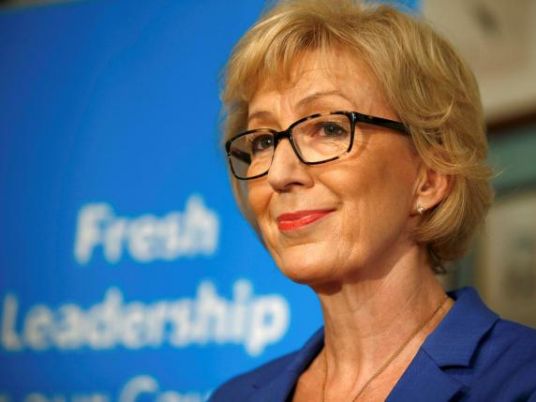 Andrea Leadsom, a candidate to be Britain's next prime minister, has put her 25 years' experience working in financial services at the centre of her campaign to become leader.
Before entering parliament in 2010 she spent a decade working at Barclays Bank and Invesco Perpetual, one of the country's biggest retail fund managers.
In an interview with the BBC on Sunday, Leadsom spoke about her past "running enormous teams, small teams," running a start up business and being part of a huge bank.
But some of her career credentials are being called into doubt. Reuters spoke to five former Invesco colleagues, including four in senior management positions, who said Leadsom did not have a prominent role or manage client money.
A spokesman for Leadsom did not respond to Reuters' request for comment.
Responding to a report in a British newspaper on Tuesday that she had exaggerated her role at Invesco, the spokesman for Leadsom said in a press release that the assertions were "uncorroborated".
Leadsom came second in Tuesday's first-round ballot of Conservative lawmakers over who should be the next leader of their party, and was one of the leading members of the successful "Leave" side in Britain's EU referendum.
A second-round ballot on Thursday will decide which two candidates go forward to the final stage of the election involving party members.
Fellow leave campaigner and former London Mayor Boris Johnson, who is backing Leadsom after deciding not to run himself as the party's leader, said she has a "better understanding of finance than almost anyone in parliament".
Lawmaker Bernard Jenkin, another backer, said her position at a "large investment firm where she was responsible for managing hundreds of people and billions of pounds" made her suitable for the role.
Leadsom said on her CV, published by her spokesman after critics questioned her credentials, that she worked at Invesco Perpetual between 1999 and 2009, and was Senior Investment Officer and Head of Corporate Governance. Invesco declined to say what these roles involved. Typically in the UK financial industry, a senior investment officer manages client money. The five former Invesco employees said she did not manage a large team or look after client money.
"Everybody I've spoken to who does remember her says her CV doesn't match her role," said one of the sources.
The Financial Services Register in the UK is a directory, started in 2001, that lists people in financial services companies who carry out a "controlled function", which usually involves managing money, advising people on financial matters or holding a senior management role.
According to the register, Leadsom was an approved person for dealing with client money at Invesco Perpetual from December 2001 to February 2002. But there is no record of her on the register anytime after that.
That does not indicate she was not employed by the fund but suggests she was not in a position with large responsibility for managing client money or in senior management.
Invesco confirmed that Leadsom worked there between 1999 and 2009 but declined to comment further on what her roles involved.
One of the former Invesco colleagues, Robert Stephens, said he contacted her last week after seeing her Wikipedia entry which sourced the 2013 edition of Who's Who, a well known biographical compilation of influential figures, as saying that she had been listed as Chief Investment Officer at Invesco.
A Chief Investment Officer at a fund would usually have broad responsibility for looking after investor money and setting its investment strategy.
Stephens says he is an open supporter of Britain remaining in the EU. He said that, beyond his position on the referendum, he was angered by Leadsom's claims about her financial career.
Stephens said he approached Leadsom to clarify her role at the company.
Leadsom has subsequently corrected the Wikipedia entry. Stephens said she denied to him that she had written the passage.
Stephens and three sources said her work included assisting the then Chief Investment Officer Bob Yerbury. Stephens said this included negotiating salaries for fund managers and working on special projects for him.
Yerbury could not be reached for comment.
"People are being seduced into thinking oh wonderful 25 years in the City. She got to the top of the City," Stephens, who worked as a global investment specialist at Invesco Perpetual at the same time between 1999 and 2009, told Reuters. "It assigns to her understanding of the way the financial world works which simply aren't so. The question is why she feels it necessary to self aggrandize herself in that way."
Before Invesco Leadsom worked at Barclays from 1987 to 1997 where she says on her publicly released CV that her roles included "managing investment banks business" and "deputy financial institutions director". A source at Barclays bank said there had been emails sent around different departments in the investment bank in recent days trying to confirm her roles there.
Barclays confirmed the dates she worked at the bank but declined to comment further.
Some of Leadsom's supporters say the criticism from Stephens is uncalled for, even if there are questions about her career history.
"I think most people are realistic to know when you write a CV, you don't write it so that people don't employ you. We also know that when you write a CV a job title you have doesn't always reflect what you do … you always make the most of it," said Anne Marie Morris, a Conservative lawmaker, who was part of the same intake as Leadsom at the 2010 election and is one of her supporters.
"The reality was that she wasn't making the tea, she was engaged in very serious deals and negotiations with very serious people."