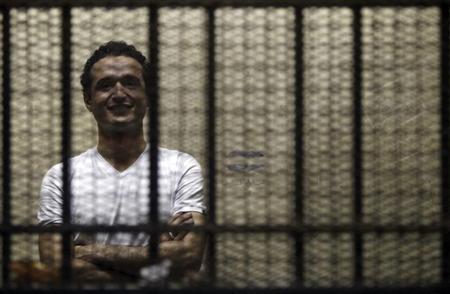 The Constitution Party has requested President Adly Mansour to pardon political activists Ahmed Doma, Ahmed Maher and Mohamed Adel, as well as Loay Abdel Rahman, Omar Hussein, Islam Ahmed and Nasser Ibrahim, who were sentenced to prison in Alexandria for two years and fined LE50,000 for demonstrating to demand retribution for Khaled Saeed.
In a statement on Monday, the party expressed solidarity with the families of the first three detainees who said would stage a peaceful sit-in outside the presidential palace to demand their release.
The party renewed its rejection of the new protest law, which requires prior authorization from the Interior Ministry in order to peacefully gather, as they say it contradicts the gains of the 25 January revolution and raises doubts about the government's commitment to democracy.
The statement also said the law includes toughens penalties unheard of in other countries of the world and grants broad powers to the Interior Ministry.
The UN, EU and United States all criticized the law, stressing that fundamental human rights must be respected in the crucial time of governmental transition.
Foreign Ministry Spokesperson Badr Abdel Aaty quickly lashed back at the criticsim. "It's unacceptable that any country intervene within local Egyptian affairs," he said. "It's normal that all countries, especially major ones, pay attention to the development of a country like Egypt, but this does not permit the violation of certain lines or comment on decisions related to local issues."
Edited translation from Al-Masry Al-Youm