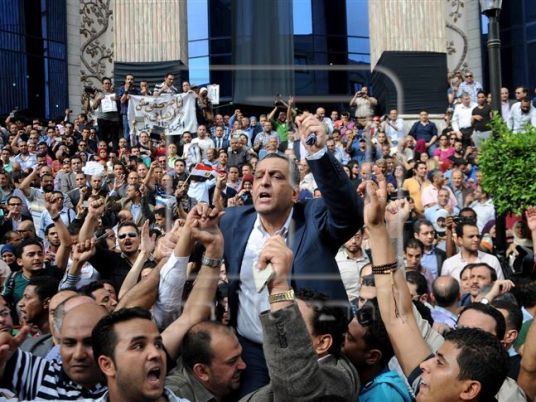 Qasr al-Nil Misdemeanor Appellant Court on Saturday sentenced journalist unionists to lenient punishments, overruling earlier harsh verdict against them for harboring colleagues wanted by the law and spreading false news.
The court convened on Saturday for the trial of former Head of the Journalist Syndicate Yehia Qallash; syndicate Secretary General Gamal Abdel Rahim; and former Head of the Freedoms Committee at the syndicate Khaled el-Balshy.
Tightened security measures were imposed this morning prior to the session, including cordoning off of the courthouse building and deployment of Central Security Forces.
Qallash, Abdel Rahim and Balshy have been sentenced to two years in prison and fined LE10,000 each in November, for harboring Amr Badr (now member of the syndicate's board) and Mahmoud al-Sakka.
Today's ruling eased the sentences to one year of prison for each, and granted a stay of execution by the court.
Qallash, Rahim and Balshy were arrested in the wake of a stand-off between the syndicate and the Interior Ministry after the journalists Badr and Sakka took refuge inside the syndicate's headquarters in late April, fearing arrest by police.
After police officers stormed the syndicate building to detain Badr and Sakka on the first of May, the syndicate's leadership made claims that the ministry had used excessive force in its 'raid' on the journalist body's headquarters in downtown Cairo.
Badr and Sakka had been remanded into custody five times starting April 2016, until they were finally released in late August over charges of publishing false news, inciting protests and attempting to bring down the administration of President Abdel Fattah al-Sisi.
The arrests came as part of a broader police crackdown on journalists since April 25, when mass anti-government protests had been planned in response to the transfer of two Red Sea islands from Egyptian control to that of Saudi Arabia.
Protests had been building since April 8, when an agreement redrawing maritime borders was signed between Egyptian President Sisi and Saudi King Salman bin Abdel Aziz.
The much-debated agreement has been nullified by a top court this January.