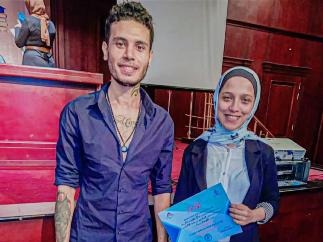 The Zagazig Criminal Court, on Monday, referred the defendant accused of killing student Salma Bahgat to to the Grand Mufti, to take his opinion on sentencing him to death.
The court set November 3 to issue the final verdict.
The Zagazig Criminal Court previously adjourned on Monday the third trial session of Islam Mohamed Fathy Mohamed, accused of murdering Salma Bahgat.
At the beginning of the session, the head of the court read out the contents of the medical report from the Abbasiya Hospital for Psychiatric and Neurological Diseases, on the accused.
The report stated that the accused did not have, at the present time or at the time of the murder, any symptoms indicative of a psychological or mental disorder, and confirmed him to have a sound mind. 
The court heard the prosecution's arguments and the defense of the victim and the accused.
The prosecution demanded the maximum penalty be applied on the accused, which is death by hanging.
The accused's lawyer requested that the accused and the advisory report be transferred to a higher psychiatry committee to re-examine the accused.
In its previous sessions, the court referred the accused to the Abbasiya Psychiatric Hospital and requested the formation of a specialized committee of professors of psychiatry and neurology to examine his condition to find out whether he was responsible for his actions at the time of the crime.
The accused stabbed Bahgat, 22, a student at the Faculty of Mass Communication at Al Shorouk Academy, when she entered an apartment building in the Montazah area, Zagazig. He was arrested immediately after the crime.
The Public Prosecutor ordered the pretrial detention of the accused, pending investigations, on accusation of premeditated murder, and he was referred to a criminal court.