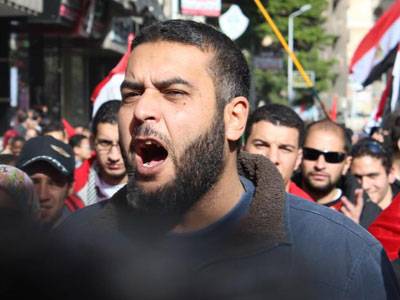 Mohamed Yousry Salama, formerly a spokesperson for the Salafi-oriented Nour Party before becoming a supreme body member of the liberal opposition Dostour Party, died Sunday morning at the age of 39 after a short struggle with a stomach microbe.
Political parties across the spectrum, including both the Nour and Dostour parties, issued statements mourning Salama and praising his political affiliations.
Many political parties of various affiliations, including Dostour and Nour, mourned Salama praising his political positions.
Mohamed ElBaradei, head of the Dostour Party, said in a tweet that "his love for his country, his integrity, his self-denial and his defense of the freedom and dignity of every Egyptian will always be a role model for all of us."
The Nour Party released a statement Sunday morning asking God to bless Salama.
Salama was born in Alexandria on 1 October 1974. He studied dentistry, but his passion for Arab heritage led him to change his career. He joined the Manuscripts Center at Bibliotheca Alexandrina to work as a researcher and a translator.
Salama studied Islamic studies on the hands of a group of Alexandria-based Salafi preachers, including Mohamed Ismail al-Moqadem, who is known for having more tolerant beliefs among the hardline Islamist current.
Salama participated in the 25 January revolution in Alexandria, in contrast to many Salafis. He wrote he made the decision to participation since it "freed him from the prison of fear forever."
His revolutionary views were largely incompatible with the Salafi current that he belonged to. He rejected the referendum on the constitutional amendments on 19 March 2011, and demanded the removal of the Supreme Council of the Armed Forces, which ruled the country for over a year, from political life. He also attacked the Muslim Brotherhood and what he viewed as its desire to control the aspects of the state.
Despite the criticism against President Mohamed Morsy, including Salama's own criticism, he defended his choice to support Morsy in the election runoff against former President Hosni Mubarak's last prime minister, Ahmed Shafiq.
"Despite all the negatives aspects that we criticize and the inadequacy in many issues that we cannot tolerate, there is no room for comparison between the situation now and what was to become in the event of Shafiq being president," Salama said.
Salama's disagreement with Salafi preacher Yasser Borhamy, deputy head of the Salafi Dawah group, was the trigger that led him to seek another political approach. Salama said he had his differences with Borhamy since pre-revolution times.
He said of Borhamy, "I think many of the views of the sheikh and his choices have caused serious damage to Dawah, rather than benefiting it."
The Dostour Party was the final stage in Salama's political life. He defended the party and his choice to join it, despite his Islamic background.
"If the Freedom and Justice, Strong Egypt or Wasat parties are Islamists, then Dostour is. If they are secular, then Dostour is secular. This is because these parties do not call for applying Sharia in its comprehensive sense," Salama said. "Therefore, they are the same, but slogans vary."
Edited translation from Al-Masry Al-Youm