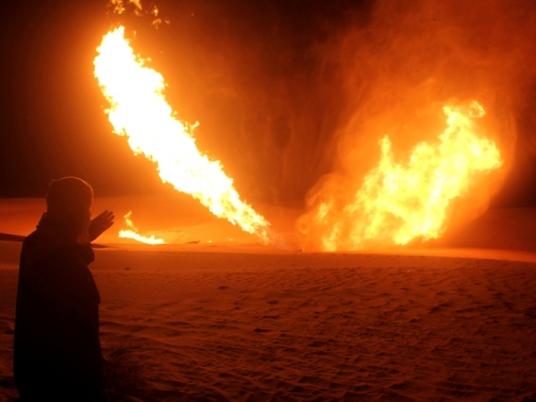 Sinai security authorities have detained two members of a terrorist group following a campaign on Sunday in some areas of North Sinai.
The arrest of Abdel Karim Mohamed Ahmed and Ahmed Salem Awwad, both members at Al-Takfir wal Hijra (Excommunication and Exodus), came hours after the detention of their Al-Qaeda-linked leader, Mohamed Eid Mosleh, also known as Mohamed al-Teehi.
Teehi is the prime suspect behind the assaults on Arish police station on 29 July, as well as the bombings of the Sinai gas pipeline, which has been attacked seven times since the breakout of the Egyptian revolution in January.
The arrested pair face charges of joining a terrorist group, assaulting police facilities, murdering one police officer and one army soldier, injuring seven soldiers, involvement in the pipeline explosions, assaulting Central Security camps in Rafah, and the attempted demolition of the statue of former President Anwar Sadat in Arish.
They are also involved in the disappearance of three Arish police officers since January.
Observers have recently said that Al-Takfir wal Hijra has been quite active in North Sinai since the 25 January revolution and that many of its members were on the forefront of the confrontation with the police.
Egyptian officials say limits on troop numbers in Sinai under a 1979 peace treaty with Israel make it harder to secure the area, which local Bedouins say has been neglected for decades. Some have taken to smuggling and weapons smuggling to make a living.
The seven explosions that targeted the pipeline, which also carries supplies to Jordan, brought the gas transfer to a halt several times.
Translated from the Arabic Edition