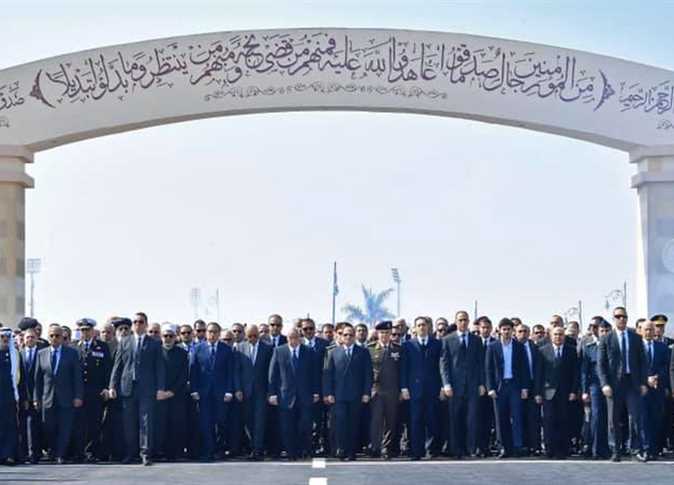 Egyptian President Abdel Fattah al-Sisi led on Wednesday a full-honors military funeral for former President Hosni Mubarak in New Cairo's Masjed el-Mosheer Tantawy (Al-Mosheer Tantawy mosque), with the ceremony attended by statesmen, senior military officers and delegations of several Arab and Foreign countries.
Sisi shook hands with Mubarak's two sons Alaa and Gamal and extended his condolences following a 21-gun salute.
Mubarak's family will also receive condolences from officials on Thursday evening in the Al-Mosheer Tantawy mosque.
Alaa and Gamal carried Mubarak's coffin while surrounded by a large crowd of mourners, later entering the mosque to perform the traditional funeral prayer.
A horse-drawn carriage then carried Mubarak's coffin to a helicopter, which moved his body to a family grave in Cairo's Heliopolis.
Mubarak's wife Suzan also made a rare public appearance to attend the ex-president's funeral.
Meanwhile, a crowd of Mubarak supporters carrying posters of the former president rallied outside Al-Mosheer Tantawy Mosque in Cairo, asking that God show mercy on him.
Mubarak underwent surgery about a month ago and his son Alaa announced at the time that his condition was stable. He died on Tuesday after a battle with illness at the age of 92.
Mubarak served as the fourth president of Egypt for around thirty years and was ousted in the 2011 popular uprising in February of that year, part of other protest movements that swept the region during the Arab Spring.
He faced charges of corruption and complicity in the killing of dozens of protesters during the 18-day uprising that led to his overthrow, and the former president was sentenced to life imprisonment for involvement in the killing of anti-government demonstrators in 2012.
He was later retried and subsequently acquitted and released in 2017, however. On February 22, Cairo Criminal Court also acquitted Mubarak's sons, Alaa and Gamal, of illicit share trading, charges dating back to the sale of Al Watany Bank of Egypt to the National Bank of Kuwait in 2007.
The charges pertained to accusations that the two sons had illegally profited, along with seven other defendants, from the sale of the bank.
Following Mubarak's death, the Egyptian Presidency announced three days of mourning beginning on Wednesday and issued a statement calling Mubarak one of the "leaders and heroes" of the 1973 October war with Israel.
Mubarak served as the commander of the Egyptian air force during the 1973 war, before assuming the presidency in 1981 following the assassination of former Egyptian President Anwar Sadat by Islamic extremists. During his time as President, Mubarak focused on stability and economic growth, allowing for limited political dissident, especially when it came to criticizing the regime or military. He also served as an important ally to the US in the fight against Islamic extremism and supported peace efforts between Israel and the Arab world, according to The Associated Press.
Israeli Prime Minister Benjamin Netanyahu offered condolences to Mubarak's family on Tuesday, expressing "deep sorrow" over the ex-president's passing.
"President Mubarak was my personal friend," Netanyahu continued. "(He was) a leader who led his people to peace and security, and to peace with Israel."
Edited translation from Al-Masry Al-Youm