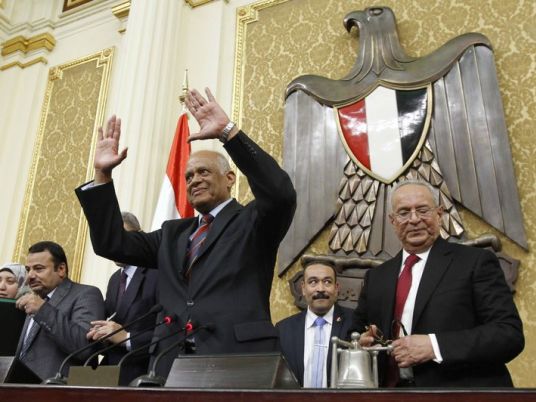 Egypt's government has submitted a report to the House of Representatives on its achievements in the period from March 2016 to September 2017.
Al-Masry Al-Youm obtained a copy of the report which includes eight axes of the government's work.
The axes consist of maintaining national security, consolidating and strengthening the state's democratic structure, the government's economic vision and program, social justice, services provided to citizens, sectoral development, regional and international leadership, administrative reform, and greater transparency and integrity.
On security and counter-terrorism, the report said that the previously unsolved 3,826 criminal cases have now been solved and the perpetrators arrested. 23,274 misdemeanor cases have also been solved and perpetrators arrested, 2390 gangs have been arrested and 223 illegal firearms workshops have been shut down.
The report also said that cases of the illegal seizure of state lands and residential and commercial units have been dealt with. The financial value of the recovered units and lands reached LE11.5 million.
On the consolidation of the democratic system, the report said that several measures have been taken. The main achievements here included an increased coordination between the parliament and the government, enforcing articles of the constitution dealing with the press and media, developing the country's infrastructure and deepening political participation.
It added that the government aims to achieve an economic growth rate of about 4.6% and reduce the unemployment rate to 11.8% this fiscal year.