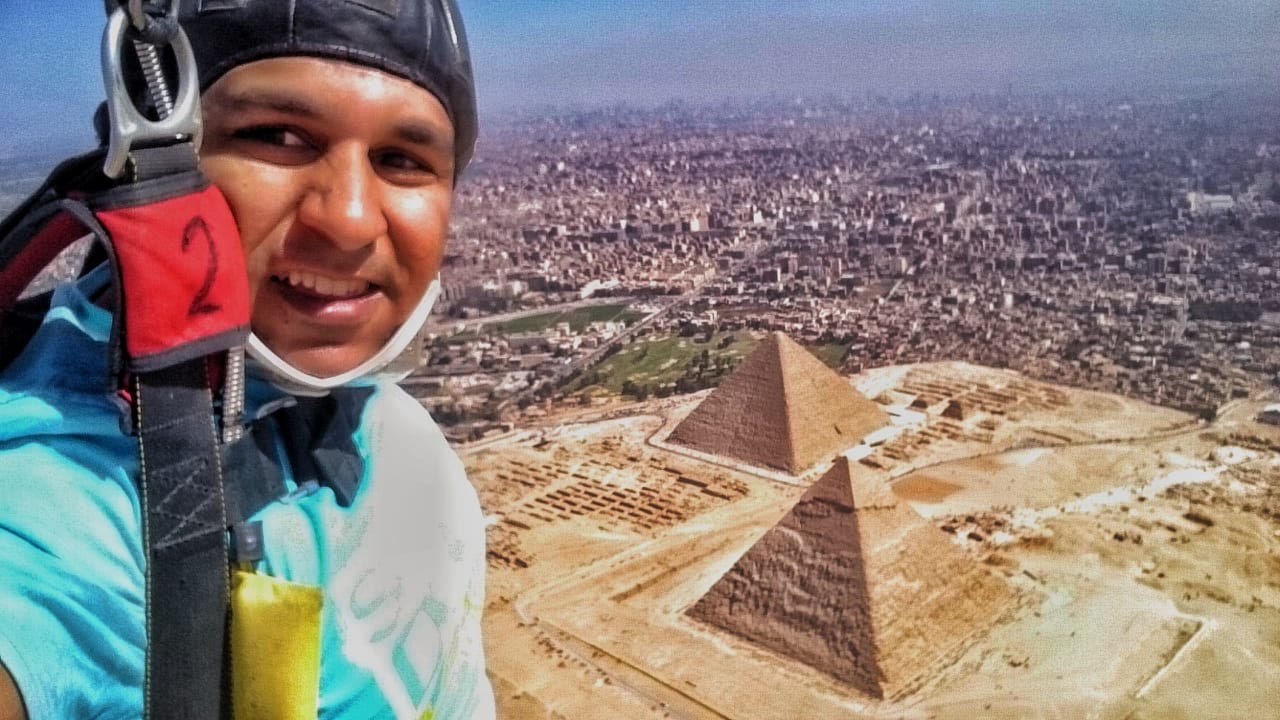 From its beautiful weather to its incredible range of terrains, Egypt has all the attractions to become a new niche for skydiving sport.
The country, however, despite being a potential hub for this adrenaline-rush activity, the country has never hosted a skydiving event, before.
And this is how the idea of holding Egypt's first skydiving event "Jump Like a Pharaoh" was born.
Mahmoud Sharaf, co-founder of Skydive Egypt, believes that the event represents a shift in how Egypt views skydiving, "this is Egypt's first ever skydiving activity," Sharaf told Egypt Independent, "65 divers from 20 countries, who hold world records, will gather to take part in the jump."
The event will take place from June 22-26 at the Giza pyramid complex.
Over three consecutive days, three jumps will take place from 15 thousand feet, landing on the second pyramid (Khafra'a). The event will also include a seminar on June 26 held by world renowned skydivers.
As for for the message behind the event, Sharaf explained,"we want to support tourism, but more importantly, we want to advocate establishing a permanent drop zone in Egypt to be able to operate whenever we need."
A drop zone is a place declared by the Skydiving Federation as a safe place for the landing  of skydivers. According to dropzone.com database there are around 1308 drop zones around the world. Europe has the lion share of these with 619 drop zones listed, followed by North America with 385 drop zones, South America (136), Pacific (79), Africa (48), Asia (26) and the Middle East with only 8 drop zones.
"Skydive Egypt was established four years ago to try to put Egypt on the world skydiving map. We have been touring the world trying to curate the event through the word of mouth. Today, the event will be attended by French, Americans, Austrians, Kuwaitis and Brits among other nationalities," he said proudly.
The event will not only include skydives, but also a tour of Egypt's most histoirc sites such as Moez Street, the Egyptian Museum and Khan Al-Khalili.
While"Jump Like a Pharaoh" event is the first of its kind in the country, Egypt has been gradually introducing air sports into its tourism program.
In April, Egypt hosted its first-ever air games festival under the name "Egypt Air Games 2018". The festival was organized by Sky Sports EG Company in cooperation with the Air Sports Federation which included a from-the -air tour of the pyramids, followed by an air show where paramotors carried what was deemed to be the largest Egyptian flag ever.
Skydiving is a high-thrill sports that includes dropping from a high point in earth through gravity. Skydivers tend to free fall for a certain period before deploying a parachute to lower their velocity and land them safely on earth. The first parachuting jump in history was made by Andre-Jacques Garnerin, the inventor of the parachute in 1797. Parachuting became and international sport in 1952.