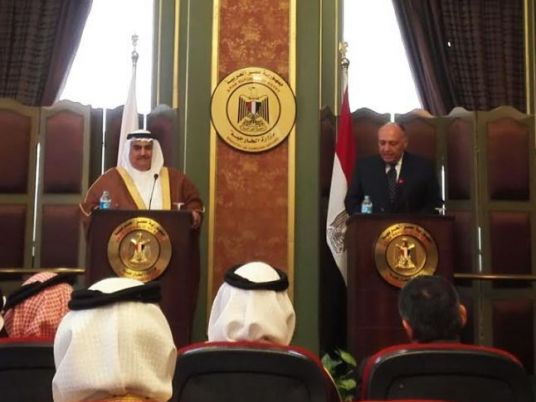 Egypt's Foreign Minister Sameh Shukri said in a press conference on Tuesday with his Bahraini counterpart that Egyptian-Iranian relations remain severed.
The Bahraini foreign minister, Khalid bin Ahmed Al Khalifa, is accompanying King Hamad bin Issa al-Khalifa on an official visit to Cairo, Egypt's state-run news agency MENA reported. The visit will last for two days.
"We always call on it [Iran] to stop intervening in Arab countries' internal affairs," Shukri said during the joint press conference.
"We reject attempts by some countries to incite sectarian strife and discord," he added.
On his part, the Bahraini foreign minister said that "Egypt's stances have always been supportive of Bahrain's sovereignty against Iranian interference."
"We discussed with Egypt points related to preserving Arab national security," he said.
Struggle for regional influence
Analysts believe that the Middle East region is witnessing a struggle over regional influence between Sunni-led countries, including members of the Gulf Cooperation Council (GCC), and Shi'ite rivals led by Iran.
Tensions have escalated since the United Nations lifted in January long-standing economic sanctions on Iran against the backdrop of a landmark nuclear deal reached between Tehran and world powers.
Bahrain, whose Shi'ite majority staged massive protests against the government in 2011, is one of the GCC member states that supported the Egyptian government after the 2013 military ouster of former president Mohamed Mursi of the Muslim Brotherhood, following mass protests against his rule.
Both Egypt and Bahrain are members of a Saudi-led military coalition that was formed during the build-up to the Iran nuclear deal.
Bahraini-Egyptian bilateral committee
Shukri and his Bahraini counterpart led on Tuesday a meeting of a bilateral committee held at the Egyptian foreign ministry's headquarters in Cairo.
During the meeting, the two sides are set to sign 15 agreements and memoranda of understanding in several fields, including agriculture, health, media, tourism and culture, MENA reported.
They also agreed during the committee's meeting on a new mechanism for political consultations whereby the two countries' foreign ministers will meet regularly in Cairo and Manama in rotation.
In October 2015, Egyptian President Abdel Fattah al-Sisi visited the Bahraini capital, Manama, to take part in the Manama Dialogue, an annual forum on regional security. During talks with the Bahrain king in the Bahraini Royal Palace, Sisi said that Bahrain's "security and stability" are part and parcel of Egyptian national security.