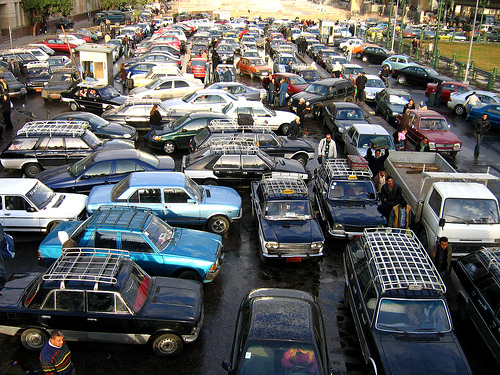 Finance Minister Mohamed Maait announced Saturday that the government plans to replace 250,000 obsolete cars manufactured 20 years or more ago in seven governorates, as part of the first phase of a presidential initiative to shift Egyptian vehicles to run on clean energy.
Maait added that President Abdel Fattah al-Sisi issued orders to grant an appropriate financial incentive to the owners of obsolete cars to replace them with new vehicles running on dual fuel (gasoline and natural gas).
The state treasury will bear the burden of financing the LE7.1 billion green incentive for the first phase of this presidential initiative.
He explained that the Cabinet agreed to grant the owner of each private car from among the beneficiaries of this initiative 10 percent of the price of the new car at a maximum of LE22,000, while taxis will receive 20 percent at a maximum of LE45,000 and microbuses will receive 25 percent at a maximum of LE65,000, with a three percent reducing rate of interest and a repayment period of up to 10 years.
This initiative will help relieve burdens on citizens by providing them with unprecedented financial incentives, credit facilities and the opportunity to own new cars instead of aging vehicles which are costly to operate and maintain, Maait explained.
He added that this initiative will lead to economic savings for citizens through rationalizing the consumption of gasoline and shifting to the utilization of clean energy.
And it has further positive effects in reducing greenhouse gas emissions and contributing to facilitating smoother traffic movement, as it ensures that no aging cars will cause traffic jams to occur with frequent breakdowns.
The initiative will further contribute to revitalizing the auto industry as well, he added, particularly industries that feed it as it requires cars to be assembled in Egypt with a local component ratio of no less than 45 percent.
Egypt manufactures many automotive components become one of the most important manufacturers and exporters for some car feeding industries globally, Maait noted.
The minister said that the seven governorates included in the first phase of the initiative will be announced soon, alongside the branches of participating banks. He added that the door is open for the participation of all Egyptian public, private and investment banks, as well as all car companies produced in Egypt.