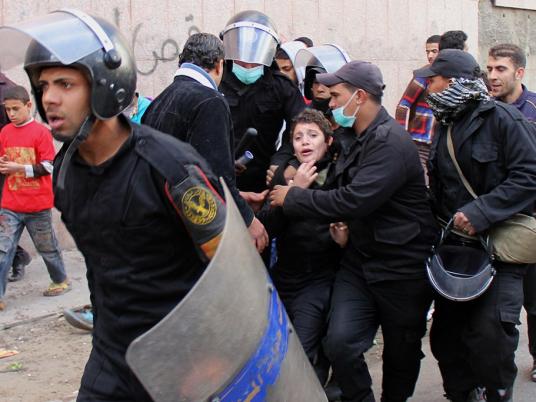 Egyptian police on Friday began the largest police strike ever where the anti-riot personnel closed their camps and scores of police stations were closed nationwide. The task of protecting the Port Said Security Directorate was also handed over to the Armed Forces.
Meanwhile, Maged Nouh, the commander of the Central Security Forces (CSF), has been fired from his post on Friday after he failed to contain the anger of the CSF officers who staged a sit-in in at least seven CSF camps in Cairo alone, Al-Masry Al-Youm reported.
Mohamed Ibrahim, the Minister of Interior, has appointed Asharf Abdallah a long CSF serving officer, to succeed Nouh.
Al-Masry Al-Youm added that Abdallah's first task is to negotiate with the officers of the CSF and to convince them to halt their strike.
Earlier Friday morning, seven Central Security camps in Cairo — Darrasa, Basatin, Nasser, Abou Bakr, Marg, Fath and Helwan — were shut down. In Giza, Al Jazeera Mubasher Misr reported that two major Central Security camps were also closed.
Al Jazeera also broadcast live images of police officers protesting in front of the headquarters of the Ministry of Interior calling for the sacking of the minister.
Strikes started in the Delta city of Mansoura Tuesday and spread to Suez Canal cities Wednesday, when CSF officers rejected orders to deploy to Port Said to provide backup for security forces that began clashing with anti-government protesters Sunday. CSF joined the strike in Ismailia while closing their CSF major base in the Canal Zone.
On Friday, the Interior Ministry said it would hand over the headquarters of Port Security Directorate to the Armed Forces to maintain its security one day before the expected court ruling in the case of Port Said Massacre, in which dozens of the city residents are defendants.
In a statement on its Facebook page, the ministry called on the people of Port Said city to "calm the situation and ensure the safety of all government and private establishments."
The recent wave of violence broke out Sunday after the Interior Ministry announced a decision to transfer defendants in the Port Said football violence case to outside the city, ahead of a final ruling set for Saturday.
Port Said has seen city-wide disobedience in the aftermath of the sentencing of 21 local residents to death over last year's deadly football riot that killed over 70 fans of the Cairo based Al-Ahly team.
On Thursday, police officers in Cairo joined the strike.
Police officers say that they are being dragged into political conflict, objecting to the poor safety measures, notably not being sufficiently armed. Three police officers were killed in clashes between protestors and police and Port Said.
These moves come after strikes in mid-February that petered out. After a number of police personnel were killed or injured during clashes in several Egyptian governorates, police have started reiterating their demands with renewed vigor.
Moreover, Central Security forces and police tasked with maintaining security around the headquarters of the Muslim Brotherhood in the Cairo district of Moqattam withdrew from their positions, privately-run satellite channel ONtv reported.
Al-Masry Al-Youm quoted members of the police who were deployed to secure the Brotherhood headquarters as saying that they do not work for the benefit of a certain political faction. They added that as the head office of a preaching group not a political party, it is not entitled to police security.
In other areas, eyewitnesses say that police have completely shut down two major police stations in south Cairo, Maadi and Helwan.
In Alexandria, as soon as a march by anti Morsy protestors reached the governorate offices, the security forces stationed there withdrew after limited clashes that resulted one policeman being injured.
The commander of the force then ordered troops not to throw teargas or engage with the demonstrators, and to withdraw from the vicinity of the building.
Furthermore, officers in two police stations in Moharam Bek and Karmouz have announced their sit-in.
MENA reported that at least 5 police stations in Damietta have also been closed. Al-Masry Al-Youm reported that police also went on strike in Tanta, north of Cairo, while security forces charged with guarding the President Mohamed Morsy's residence in his home town in Sharqiya withdrew.
Also, police officers in North Sinai have continued their strike for the third consecutive day.