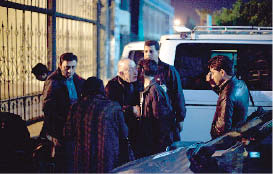 The Egyptian cabinet has decided to grant Syrians with visas to Egypt free of charge.
The move was made to display Egypt's support for displaced Syrians, according to state-run news agency MENA.
Two weeks ago, Egypt had instituted new conditions for Syrians to get visas to Egypt, after some media outlets accused Syrians of participating in bloody confrontations between supporters of deposed President Mohamed Morsy and the armed forces. This forced many Syrians to have to return to their war-torn country.
The interim cabinet, however, has decided to come back on this decision and to allow Syrians to enter Egypt with visas free of charge, especially as the situation in Syria is worsening. Syrians have always been able to enter Egypt with nothing more than a passport.
According to the UN High Commissioner for Refugees, 72,000 Syrians have fled to Egypt since war erupted between rebels and the forces of Syrian leader Bashar al-Assad.
Under Morsy, the regime had openly supported the Syrian revolution against Assad and Cairo had severed ties with his regime.
Edited translation from MENA