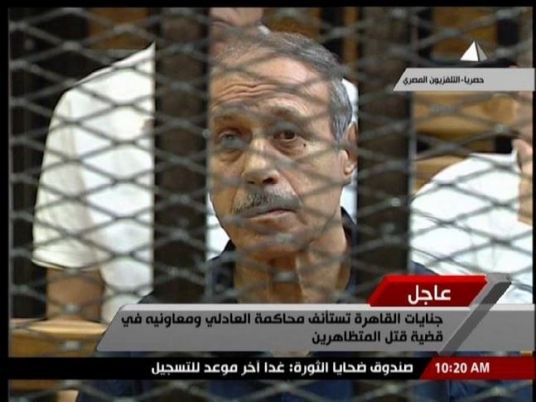 gypt's illicit gains authority announced on Tuesday it will appeal a court ruling acquitting former Interior Minister Habib al-Adly of graft charges amounting to 181 million Egyptian pounds.
The Giza Criminal Court acquitted the former minister on March 19. Adly was on trial for charges of amassing a fortune disproportionate to his sources of income, indicating that he may have used his political influence for illegal gains.
Youssef Othman, the head of the illicit gains authority, said the body has discovered "legal flaws" in the ruling. He added that the authority has drafted the reasons for its appeal and will hand them over to the prosecutor general.
Adly was released from Tora prison last Wednesday, after spending over four years in prison.
The former interior minister was taken into custody days after the removal of former president Hosni Mubarak in 2011 and has since faced a total of four trials.
Of the four trials, Adly has only been served a ratified sentence in one. He was handed a three year sentence, which was upheld in February 2014, for exploiting conscripts by tasking them with carrying out work for him in his home.
Last November, the former minister was acquitted of charges of inciting and aiding the killing of protesters, in a trial that included Mubarak.