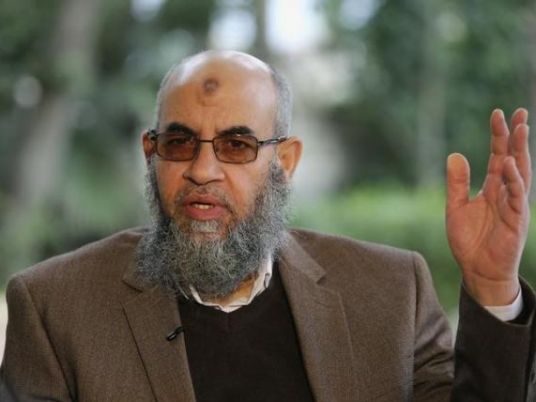 On the campaign trail ahead of Egypt's parliamentary elections, the heavily bearded leader of the ultra-conservative Nour Party praises Islam's Prophet Mohammad for cleaning up politics, and promises to do the same.
In reality, Younes Makhyoun has more pressing priorities — surviving the fiercest crackdown on political Islam in the country of its birth.
"Our philosophy is to avoid confrontation," Makhyoun told supporters in the Mediterranean port of Alexandria, the country's second city. "Even in opposition, we practice wise opposition, through nice words and politeness."
In Egypt's last parliamentary election, held less than a year after the 2011 uprising ended Hosni Mubarak's 30-year rule, Nour came second only to the Muslim Brotherhood. Together, they dominated the legislative chamber.
But as it became clear the Brotherhood would not hold onto power, Makhyoun secured his party's survival by siding with the military.
He was one of a handful of religious and political leaders who flanked then military chief Abdel Fattah al-Sisi when he appeared on television in 2013 to announce the removal of President Mohamed Morsi, a member of the Brotherhood.
Nour's cautious approach to politics speaks volumes about the precarious state of Islamists, the backbone of opposition to Egyptian autocrats for decades.
After Morsi's ouster, security forces killed hundreds of supporters of the Brotherhood — the most influential Islamist movement in Egypt — and jailed thousands more.
The Brotherhood was banned and declared a "terrorist group" as state media demonized political Islam.
Pragmatism
Nour responded to the pressure by keeping a low profile and taming its ambitions to implement Sharia, Islamic law, in line with the Salafi school it follows, an austere interpretation of Islam harking back to the time of the Prophet Mohammad.
Egypt's constitution enshrines Islam as the basis of all legislation but the most populous Arab state applies it more in family and inheritance laws than in the penal code.
Nour, which emerged as a political kingmaker after the last parliamentary election in 2012, has pulled out of competing for half of the seats reserved for party lists and is running for less than half of those set aside for individuals.
Even in Alexandria, its traditional stronghold, it is contesting only half of the seats.
"The Nour Party has no problems with anyone, we have good relations with the army, with security, with government agencies," Makhyoun, a 59-year-old dentist, told the rally there.
Looking on were a handful of children in oversized t-shirts with the party logo — a map of Egypt under sunlight, alluding to the word "nour" which means light in Arabic.
Only about 200 supporters were on hand, in contrast to the thousands that showed up before the last electoral battle.
"We put up banners but others take them down or rip them," said Nour supporter Mohamed Shawky, a grocer in Alexandria's low income Raml district.
Critics accuse Nour of selling out fellow Islamists and providing political cover for Sisi, who went on to become elected president and has tried to project an image of inclusiveness as his tough security measures against opponents draw fire from human rights groups.
"They played delicately and survived due to their pragmatism," says H.A. Hellyer, Arab affairs specialist at the Brookings Center for Middle East Policy in Washington.
"From the state's perspective Nour's presence is quite helpful. They are Islamists who remain on the scene and even win seats in elections. This is very useful when you want to project an impression of pluralism."
Party of falseness
Nour rejects accusations from former members and other Islamists that it has betrayed the Islamist cause.
Founded in the aftermath of the 2011 uprising, it, like the Brotherhood, has gathered most of its support through charitable activities in poor areas where religion is prominent.
But observers say it differs in being ready to seek accommodation in order to secure safety from repression.
This month, a party march in Alexandria was intercepted by young Islamists.
They flashed the four-finger salute adopted by pro-Morsi protesters after security forces killed hundreds of their number in 2013, and yelled "Zour Party", a play on words changing the party's name from "party of light" to "party of falseness".
Supporters say Nour saved Egypt from descending into the chaos that has engulfed neighboring countries by backing the removal of Morsi, who critics say mismanaged and polarized the country.
"Look at what happened in countries like Syria, Libya and Iraq," Makhyoun, standing on a makeshift wooden stage, told the crowd of mostly middle-aged supporters at the Alexandria rally.
The party promises to "preserve Egypt's Islamic identity" by making sure parliament makes no legislation contradicting Sharia and "purifying" existing laws from any such contradictions. It also says it will work towards social equality.
"We want a parliament for millions, not for those who have millions," says Talaat Marzouk, a former MP for the party seeking reelection, in reference to businessmen candidates.
Nour's acquiescence does not mean it will remain safe.
A provision in the new constitution passed in 2014, a charter which Nour endorsed, outlaws religious parties.
Several cases were filed in courts arguing for Nour's dissolution in an increasingly intolerant political climate.
So far none have been successful, but that could yet change.
And while it has lost support in its own Islamist camp, Nour's approach has won it little admiration from secular voters.
"They are the ones who brought us down. The Brotherhood and Nour are the same thing," says Mohamed Hassan, a shopkeeper on Alexandria's upscale Rushdi street.