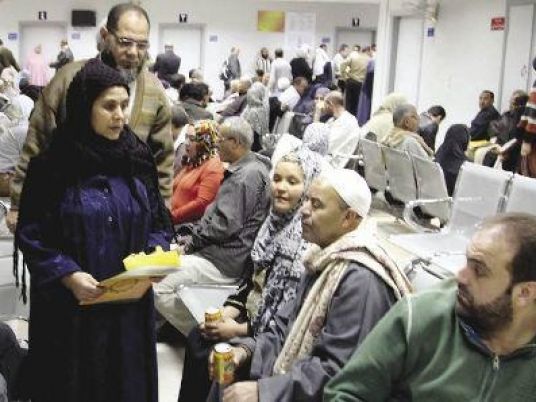 President Abdel Fattah al-Sisi announced on Saturday that his government aims to reduce the rate of Hepatitis C virus in Egypt by 2019/2020 from the highest in the world to the lowest amongst the global rates of infection.
This came during Sisi's inauguration for various housing, water and sanitation projects in al-Gabal al-Asfar in al-Khanka.
Health Minister Hala Zayed said that more than 17.5 million Egyptians have been screened so far in the first stage and part of the second phase of the initiative to eliminate the Hepatitis C virus in Egypt and noncommunicable diseases.
A minister present during the inauguration ceremony said that 732,000 citizens proved to be infected with the virus.
"The results of the survey so far indicate that 11.7 million Egyptians who have been surveyed have hepatitis C virus, blood pressure, diabetes, overweight or have all problems in one person, and only 25% of the screened had a normal weight," Sisi added.
The screening campaign for Hepatitis C began earlier this year, targeting people aged 19 to 59 for scanning through PCR tests. Those testing positive for the disease are expected to undergo further check-ups, and will be provided free medication.
The Ministry of Health (MOH) warned citizens against refusing to be scanned.
The "Tahya Masr" (Long Live Egypt) Fund announced in an August statement that the Hepatitis C virus in Egypt will be completely eradicated by 2020, through one of the largest medical examinations in human history.
It added that 45 million people will be screened in collaboration with the United Nations World Health Organization (WHO) to prevent the disease, and tackle the country's list of endemic diseases.
Egypt has the highest rate of Hepatitis C in the world, first surfacing in the 1950s due to unsterilized injections. The highly-infectious blood borne virus kills an estimated 40,000 Egyptians a year, and at least 1 in 10 of the population aged 15-59 are infected, according to the WHO.
Edited translation from Al-Masry Al-Youm