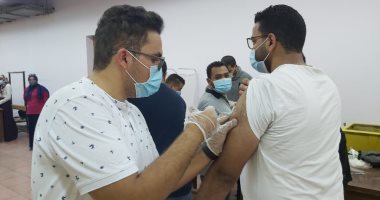 Egyptian authorities have started vaccinating university students against coronavirus, ahead of the upcoming academic year set to begin on October.
The Helwan University announced a campaign to vaccinate students with COVID-19 vaccine, and continues to provide the vaccine for faculty members and university employees.
A statement from the university said that the campaign is now in its third day and has vaccinated about 3,000 students.
The acting president of Helwan University Maged Negm praised Egyptian state's keenness to provide a vaccines to all citizens. He stressed that the university's campaign comes in support of the state to protect all citizens against the virus.
Vice President of the University Mamdouh Mahdi said that several centers within the university are providing the vaccine in coordination with the Ministry of Health.
He thanked medical staff and the University Students' Union for their efforts to receive the recipients of vaccinations, which took place in an organized manner that closely followed all precautionary measures.
Egyptian President Abdel Fattah al-Sisi ordered last month the vaccination of all university and school staff and students against COVID-19 ahead of the new academic year.
Public schools are set to begin session on Saturday, October 9, while international school students are due back on September 12.
The directive comes as some universities in Egypt are requiring proof of vaccination for staff and students, such as the American University in Cairo, who announced last week that only those who are vaccinated may enter campus.