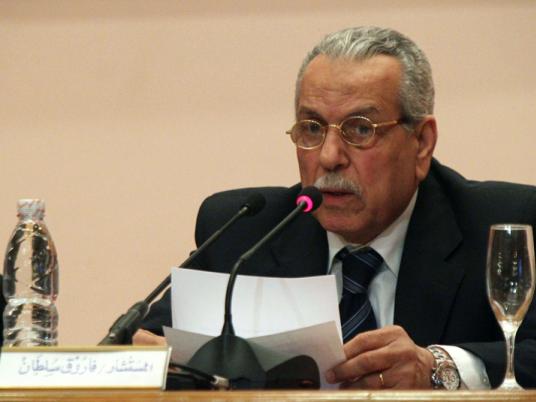 Ten candidates for the Egyptian presidency including Hosni Mubarak's spy chief, a Muslim Brotherhood leader and a Salafi preacher lost appeals against their disqualification from the race, Middle East News Agency reported Tuesday.
The Presidential Elections Commission delivered its decision Tuesday evening after a meeting headed by Judge Farouk Sultan, head of the Supreme Constitutional Court, said MENA, adding that the commission turned down the appeals submitted by the ten hopefuls.
Reuters news agency quoted a member of the judicial commission that "All appeals have been rejected because nothing new was offered in the appeal requests."
On Saturday, the commission excluded Salafi candidate Hazem Salah Abu Ismail because his mother carried American citizenship, and former vice president Omar Suleiman because he failed to fufill the requirements for the 30,000 endorsements reqiured for his candidacy.
It had also excluded Muslim Brotherhood candidate Khairat al-Shater on the grounds that he is deprived of his political rights after being convicted in the Al-Azhar militas case in 2007, and has not received a rehabilitatyion order from a court.
Ayman Nour, founder of the Ghad Al-Thawra Party, was excluded for having been convicted in 2005 on charges of falsifying party establishment documents, and for not receiving a rehabilitation order from court.
The commission also barred Mortada Mansour and Ahmed Awad al-Saidi from running due to a dispute for the presidency of Egypt National Party, as well as former intelligence officer Mamdouh Qutb, who was running under the Al-Hadara Party, because the party had no representatives in Parliament.
Ashraf Baroma was excluded when the commission found out that he had evaded his military service, Ibrahim al-Ghareeb was barred for failing to collect the required endorsements and for carrying American citizenship, and Hossam Khairallah for running under the Egyptian Arab Socialist Party, whose presidency is also contested.