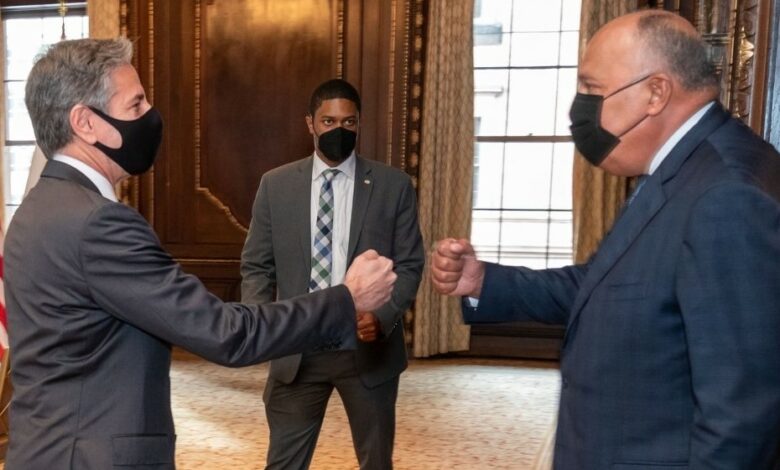 Strategic dialogue sessions between Egypt and the US will be launched in Washington, DC, on Monday, addressing cooperation and areas of work to be strengthened in light of the strong relations between both nations.
The dialogue will also discuss the most prominent regional and international issues of mutual interest, under consultation from the  American side on the most prominent issues of joint coordination.
The Egyptian Foreign Ministry said that Foreign Minister Sameh Shoukry is scheduled to meet with his US counterpart Antony Blinken in Washington alongside some US administration officials, and will communicate with a group of members of the House of Representatives and Senate, in addition to holding meetings with the most prominent think tanks.
"Egypt is a vital partner for the United States. We are committed to strengthening the forty-year U.S.-Egypt partnership by enhancing security cooperation, advancing human rights, and growing our significant economic relations and cultural ties. This Strategic Dialogue is an opportunity to advance each of these areas of collaboration to improve the lives of both Americans and Egyptians," the US State Department said.
The Director of the Egyptian Council for Foreign Affairs Ambassador Ezzat Saad noted the timing of these dialogue sessions due to current regional issues or issues of international security and combating international terrorism resulting from the US withdrawal in Afghanistan.
"There is no doubt that the Egyptian foreign policy in recent years has gained a great momentum that the United States cannot ignore, especially with regard to the file of the peace process," he said.
Egypt expanded great efforts to reach a cease-fire agreement and achieve long-term calm between the Gaza Strip and Israel during the asymmetric war, he said, and even donated upwards of US$ 500 million for the reconstruction of the Gaza Strip.