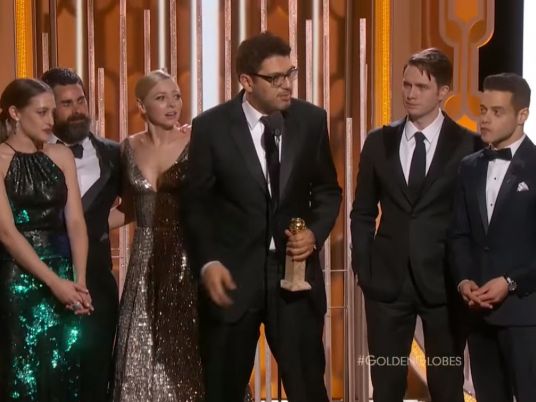 "Mr. Robot", a drama series created, produced and partially direct by Egyptian-American Sam Esmail, won the Golden Globe Award for Best TV Drama Series on Sunday, beating other big contenders including "Game of Thrones", hip-hop music show "Empire", "Narcos" and "Outlander".
Esmail isn't the only artist with Egyptian roots attached to "Mr. Robot". The show's main star, Ramy Malek, 35, is also Egyptian-American and was nominated for the Best Actor award in a TV Series.
The show tackles hypersecurity issues by following the story of computer programer Eliot Alderson (Malek), who suffers from severe social anxiety disorder. Alderson turns out to be a vigilante hacker recruited by a mysterious Mr. Robot, portrayed by actor Christian Slater.
Since the show premiered in June 2015 it has received great reviews from critics and viewers, reaching a rating of 8.9 on IMDb, 9.1 on TV.com and 98 percent on Rotten Tomatoes.
Esmail was born in New Jersey in 1977 and is of Egyptian descent. He has also written two movie scripts, "Comet" and "Mockingbird", both produced in 2014.
In his 2 minutes acceptance speech, Esmail thanked the Hollywood Foreign Press for the award and said "that took a lot of courage."
"I'd like to thank our amazing cast led by the brilliant performance of Ramy Malek," said Esmail, who ended his speech by thanking his family in the United States and in Egypt. "And to them I just want to say 'shukran'." ("Thank you" in Arabic).

Malek was born in California to Egyptian parents. He studied fine arts at the University of Evansville and began his acting career in 2006 by playing the pharaoh Ahkmenrah in "Night at the Museum".
He then acted in various eclectic roles, including "The Pacific" (2010), "Lary Crowne" (2011), "The Master" (2012) and "The Twilight Saga: Breaking Dawn, Part 2" (2012).


Actor Ramy Malek (Reuters).
In 2014 he appeared in three movies, "Need for Speed", "Night at the Museum: Secret of the Tomb" and "Da Sweet Blood of Jesus".
The young actor has been nominated for the Critics Choice Television Award, a Satellite Award and a Screen Actors Guild Award.
"Mr. Robot" has already won a series of other awards this year, including the Television Program of the Year at the 2015 American Film Institute Awards as well as the Breakthrough Series award at the 25th Gotham Independent Film Awards.
It also picked up the Audience Award for Best Episode from the 2015 SXSW Film Audience Award and was nominated at the Writers Guild of America Award for Television for the New Series Award.