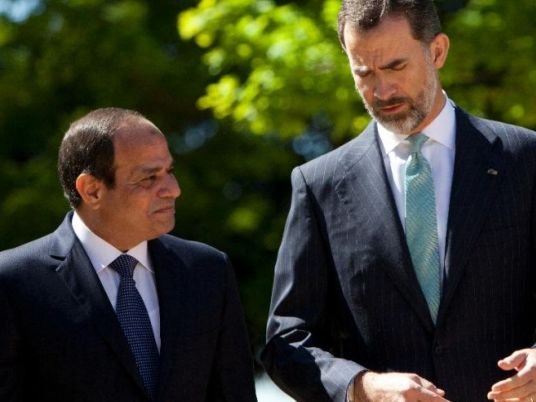 Rights groups slammed an official visit to Spain on Thursday by Egyptian President Abdel Fattah al-Sisi, saying he should be shunned for his authoritarian rule rather than courted for business deals.
Spain's King Felipe VI hosted the Egyptian leader to lunch at the royal palace after interior ministers from both nations signed an agreement to boost cooperation against illegal immigration, terrorism and organised crime.
The visit, the first by an Egyptian head of state to Spain since 2006, comes amid mounting concern in the West over unrest in the Middle East with conflicts raging in Libya, Sudan, Syria and Yemen.
"In these times of war and turmoil in your region, Egypt stands out as the key to stability and balance in the Middle East," the king said during the luncheon for Sisi.
Spain's economy ministry said it had agreed to cooperate with Egypt on a possible high-speed rail link between Cairo and Luxor.
Several other agreements are expected to be signed during Sisi's one-day visit in areas ranging from tourism to culture, a diplomatic source said.
Sisi was to hold talks with Prime Minister Mariano Rajoy later Thursday and visit Spain's lower house of parliament. No press conference was scheduled.
The visit has been heavily criticised by Amnesty International which urged Rajoy in an open letter to call on Egypt to respect human rights during his talks with Sisi.
Critics accuse Sisi, a former army chief who was elected president in May 2014, of eliminating all opposition and establishing an authoritarian regime since he overthrew Islamist president Mohamed Morsi in 2013.
A subsequent crackdown on Morsi's supporters has left at least 1,400 dead and thousands more in jail.
"Freedom of expression of journalists and dissidents is reduced, the competence of military courts to try civilians has been expanded and security forces are allowed to sue torture and excessive force with impunity," Amnesty said in a statement.
At least 509 people were sentenced to death in Egypt last year and at least 15 people were executed, according to the rights group.
– 'Guarantor of stability' –
Sisi defended his record during an interview published Wednesday in Spanish daily El Mundo ahead of his visit, saying if he had not intervened "there would have been a civil war".
"If the state collapses, that would cause terrible harm to Europe and the region would face a disaster. Egypt is not Iraq, or Syria or Yemen, nations that each have over 20 million residents. We are 90 million," he added.
Spain's invitation to Sisi to visit had "caused discomfort" within the government, said Haizam Amirah-Fernandez, senior analyst for Mediterranean and Arab issues at the Elcano Royal Institute in Madrid.
"It is motivated by the search for contracts," he added.
The Egyptian president "presents himself as a guarantor of stability" but his stand towards opponents "carries the risk of fuelling the rise of growing radicalisation", he added.
Sisi was welcomed on his arrival at Madrid airport by Industry Minister Jose Manuel Soria instead of by Foreign Minister Jose Manuel Garcia Margallo.
The foreign ministry denied there was any "discomfort" over the visit and said previous engagements had prevented Garcia Margallo from welcoming Sisi at the airport.
It was Soria who invited Sisi to visit Spain during an international investment conference in the Egyptian Red Sea resort town of Sharm el-Sheikh, according to a Spanish diplomatic source.
Sisi arrived in Spain from Cyprus where he held talk with Cypriot President Anastasiades and Greek Prime Minister Alexis Tsipras.