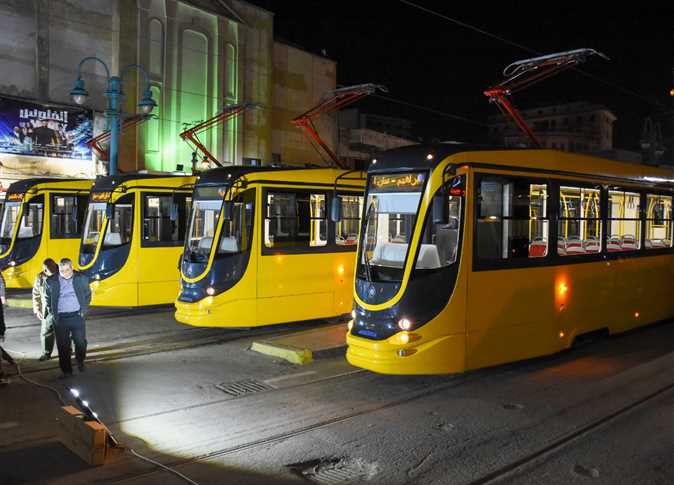 Alexandria Governor Mahmoud al-Sherif inspected on Thursday evening the operation of four new tramcars imported from Ukraine, with the aim of continuing to provide comfortable and diversified transportation options at affordable prices in Egypt's second-largest city.
Sherif inspected the new tramcars and took one in a tour from Raml Station to Azarita to check on the quality of service provided to citizens, praising the efforts of the Public Transport Authority in Alexandria to support and develop the public transportation sector and raise efficiency.
Egypt contracted with Ukraine to manufacture 15 tram vehicles, eight of which have been received by Egypt, said head of the Public Transport Authority in Alexandria Mohamed Zakaria.
Six vehicles are currently in operation, one vehicle is under assembly, and another is located at Alexandria port and has yet to be admitted into the country, he added.
The first tram line will run from San Stefano to Raml Station and cost LE5. The second route is from San Stefano to Ras al-Teen at a cost of LE7. The price for the route from Raml Station to Ras al-Teen is for LE3, he said.
The tramcars manufactured in Ukraine are air conditioned, have glass windows, and use a safety system for passengers that prevents the doors from opening until the vehicle has stopped completely. The tramcars are equipped with a fire alarm system and are designed not to move until passengers have left the car, boarding has commenced, and the doors are closed — another safety feature. 
The vehicles are also equipped with sound and visual notifications for travelers of the next station and an audio warning for passengers about closing doors, in addition to an internal radio for communication between the driver, the conductor and passengers during an emergency and an external radio for announcements at various stations.
The wheel is also equipped with a flexible rubber system to ensure the tramcars will remain relatively quiet while running, and passengers will be able too view information about stops and routes on an electronic dashboard inside and outside the tram.
The tramcars can even travel without an electric current from the network for a distance of 1.5 km, according to Zakaria.
The Alexandria Tramway is popular with residents throughout the city and has been in operation since 1863.
Edited translation from Al-Masry Al-Youm