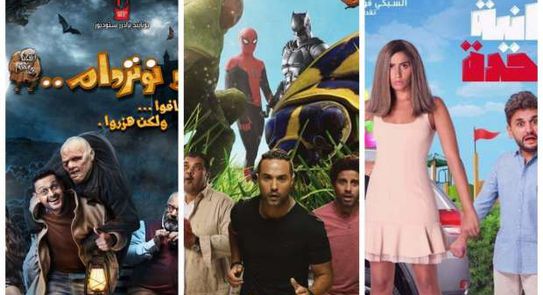 While theaters during Eid al-Fitr are usually teeming with movies and moviegoers alike, Egyptian cinemas this year are playing just three new movies during the holiday in order to curb the spread of coronavirus.
First, Egyptian actor Ramez Jalal stars in the comedy flick "Ahmed Notre Dame", where he plays a journalist tracking a mass murderer.
The movie stars Ramez Jalal, Ghada Adel, Khaled Al-Sawy, Bayoumi Fouad, Hamdy Al-Mirghani, and Intisar.
"Dido" is the second moving showing this year. Karim Fahmy and producer Ahmed El-Sobky are responsible for this film, which is a comedic adventure centered around an old fairy tale called "Hop-o'-My-Thumb".
The movie stars Bayoumi Fouad, Ahmed Fathy,  Hamdi Al-Mirghani, Muhammad Tharwat, Hoda Al-Mufti, and a group of guests including Ahmed Fahmy, Hisham Majed and Sheiko.
The third movie, "Thanya Wahda" ("One Second"), is a romance film starring actress Dina El-Sherbiny.
The movie stars Mahammoud Hamida, Sawsan Badr, Wizo, and Ola Roushdy, and a group of gusts including Ahmed El-Fishawy.
Edited translation from Al-Masry Al-Youm