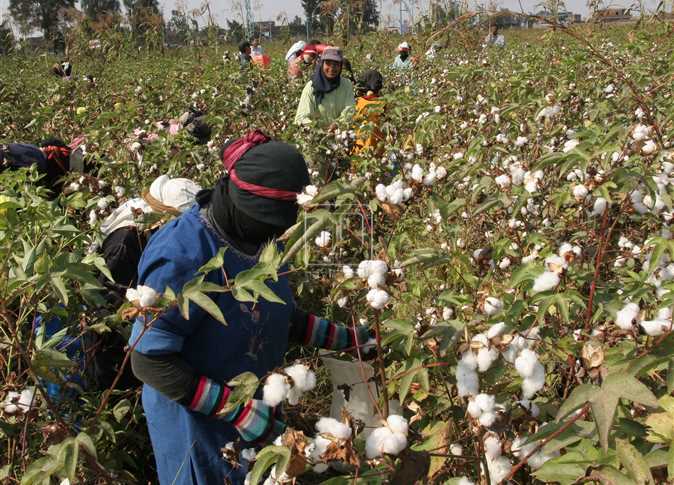 Egyptian cotton exports increased during the third quarter of the agricultural season 2018-2019 to 510,200 metric quintals compared to 160,100 metric quintals during the corresponding period of the previous season, a rise of 218.8 percent owing to the increase of cotton production, the Central Agency for Public Mobilization and Statistics (CAPMAS) announced.
In the quarterly bulletin of cotton for the third quarter of the agricultural season (March / May) 2018/19, CAPMAS said on Monday that the consumption of local cotton reached 38,000 metric quintals compared to 39,200 metric quintals during the same period of the preceding year, a decrease of three percent, because some spinning mills ceased production.
The report added that the quantity of cotton that has been ginned totaled 382,600 metric quintals during the above-mentioned period, compared to 47,700 metric quintals during the previous period, an increase of 701.8 percent thanks to the cotton production increase.
Egyptian cotton production is on course to rebound with help from a devalued currency and bigger cultivation area, recovering from a slide in exports of the world-famous crop since 2011 that was caused by a drop in quality, Reuters reported.
Output fell drastically in 2011, when political upheaval meant regulations to maintain quality were not enforced.
Hussein Abousaddam, head of the farmers' union, said in May that the cotton industry had collapsed as a result of the government's failure to market the last season's cotton crop.
He pinpointed a further cause in that the government was not committed to buying cotton from farmers at the promised price of LE2,500 per kantar for Upper Egypt cotton and LE2,700 per kantar for Lower Egypt cotton, forcing the farmers to sell to traders at prices not more than LE2,300 per kantar.
Edited translation from Al-Masry Al-Youm