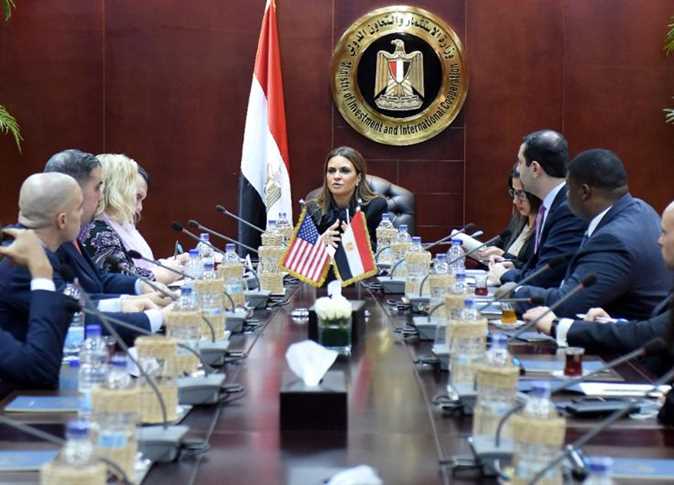 Egyptian Minister of Investment and International Cooperation Sahar Nasr met on Monday with a delegation from the United States Senate and House of Representatives to discuss boosting American investments in Egypt.
The meeting focused on encouraging more Americans to invest in the Egyptian market, with US investments currently totaling US$22.8 billion. Discussions also covered efforts to strengthen American economic partnership programs in Egypt in the interest of boosting economic cooperation between Egypt and the United States.
For its part, the US congressional delegation praised economic and legislative reforms in Egypt, which have improved the climate for investors and encouraged major American companies to invest in the country.
Major national projects launched throughout Egypt also represent an opportunity for a significant economic partnership between Egypt and the US, the delegation noted, adding that Egypt has become a portal for American investments in the Middle East and Africa.
Meanwhile, Nasr stressed the importance of providing financing through the Export–Import Bank of the United State, as well as through the US International Development Finance Corporation, in order to boost private-sector investments in Egypt.
The minister affirmed that Egypt will remain a gateway for international and regional investments, pointing as well to recent legislative reforms in the country, the most important of which is the investment law and its executive regulations, which provides incentives for prospective investors.
Furthermore, international institutions have praised the Egyptian economic reform program and consider it a model to be followed across the globe, Nasr said.
Egypt cut subsidies in 2016 in line with a $12 billion bailout from the International Monetary Fund and floated the exchange rate of the pound to ease the pressure on demand for the dollar, leading inflation rates to accelerate to 33 percent, which was accompanied by a sharp decline in earnings, according to a November report from Bloomberg.
However, inflation has declined, approaching the lowest level in years, and Andrew Schultz, who acts as head of Africa strategy and sales at Investec Bank Ltd, said in November that Egypt represents a "very good example" of the benefits of giving up currency management and adopting a liberal policy on exchange rates.
During the meeting on Monday, Nasr also stressed that the Ministry is moving quickly to establish free zones and potential areas for investment, as well as branches of the Investor Services Center across Egypt's governorates, in order to cut down on time, simplify bureaucratic procedures, and provide support to prospective investors.
The establishment of free zones represents a primary way for the Ministry of Investment and International Cooperation to attract local and foreign investments, with investors allowed tax benefits and customs exemptions in the zones as stipulated by the investment law.
There are currently 9 free zones across Egypt, with 7 new zones in the process of being established.
Potential areas for investment are currently being expanded as well, Nasr said, through the establishment of 12 new investment zones. It is expected that these new areas will contribute to providing 500,000 direct and indirect job opportunities, as well as attracting investments worth LE78 billion.
Edited translation from Al-Masry Al-Youm