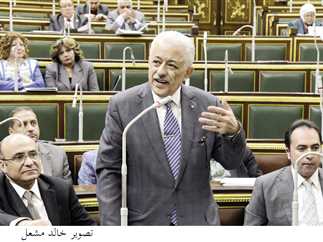 The House of Representatives approved in principle a draft law amending the education law on Sunday during the plenary session, which saw controversy over Education Minister Tarek Shawki's comments abolishing free education in an earlier meeting of the parliament's Committee on Small Enterprises.
"We will not leave the free of charge education without study. This is unacceptable," Shawki said in the earlier meeting, raising the criticism of MPs.
Shawki's comment prompted MP Mohamed Abdelghany to attack the minister, accusing him of seeking to cancel free education.
Parliament Speaker Ali Abdelaal defended Shawki by saying that his comments were taken out of context by a group of people seeking to halt the reform of education in Egypt.
"I attended part of the meeting of the Small Enterprises Committee…We were talking about the fact that the desired justice of the free education is not realized," Shawki said.
"Families whose children are enrolled with the free education system pay LE 120 billion for private tutoring, whereas the state pays LE 90 billion", he added, "We want to redirect these proceeds to increase the salaries of teachers and improve the education service."
"We must rationally determine how to manage these sums for the benefit of the citizen. We know that the new curricula, the new teaching methods, and the real development of teachers' capabilities conflicts with groups who distorted the minister's comments," Abdelaal said.
"The Constitutional Court stated in a previous ruling that free education is a right misused and must be rationalized, which is what the minister is doing. His decisions are extremely daring and the parliament supports him in reforming education," he explained.
Shawky said on Saturday that the issue of free education should not be left without discussion and requires reconsidering.
"People pay money to any place except the government, and the evidence is the money spent annually on private tuition lessons. For whom education should be free? Those who have two children or those who have ten children?!" Shawki said.
The Education Minister's remarks came during a meeting of a House of Representatives committee on Saturday, sparking controversy and speculation that the minister wants to abolish free education, a right enshrined in the country's constitution.
Article 19 of Egypt's constitution stipulates, "The State shall provide free education in the various stages in the State's educational institutions according to the Law."
The controversy prompted the minister to clarify his statements on Facebook.
"The free education provided for in the constitution was not realized properly. And the evidence is the expensive cost of lessons which poor and rich alike complain about. So the reality that education is expensive and not free," the minister said.
"And therefore I see it normal to face this reality with study and research, while we said nothing about the abolition of constitutional entitlement at all and did not ask for this," he added.
Edited translation from Al-Masry Al-Youm