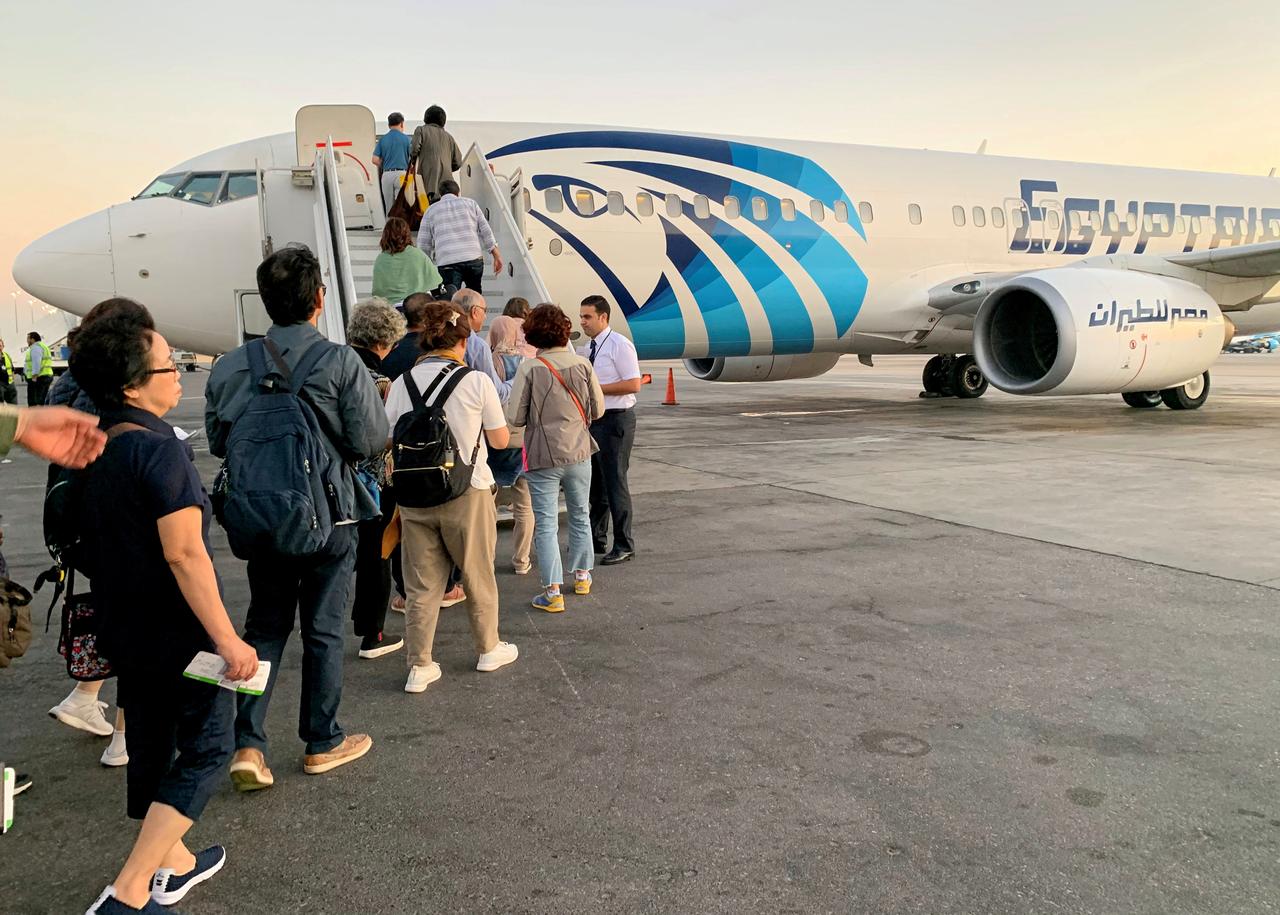 President of the Egyptian Junior Business Association's (EJB) Tourism and Aviation Committee and businessman Mohamed Kaoud said in a recent statement that despite the coronavirus pandemic, Egypt has witnessed a record rise in tourist arrivals, with approximately 300,000 tourists entering the country since its reopening on July 1.
Kaoud, who is also the CEO of Egyliere Travel, went on to say that the time to act to save and improve the country's tourism industry is now.
Roughly 6,600 tourists were arriving in Egypt each day until the government added a negative PCR test to the list of entry requirements.
The new mandate sliced arrivals by 60 percent to 2,400 per day. However, numbers have gradually increased in October, leading back up to 3,000 daily arrivals.
The country has also witnessed a rise in domestic tourism, with search engines reporting a 26 percent uptick in domestic tourism searches and a 53 percent increase in domestic flight searches.
Kaoud stated that tourism is a critical strategic sector for Egypt's economy, noting that both domestic and international tourism are essential for local businesses struggling due to the pandemic.
Prior to the coronavirus outbreak, tourism accounted for approximately 11.9 percent of Egypt's economy.
Kaoud explained that at a recent global webinar on the tourism industry, experts emphasized the potential of domestic tourism, as domestic flights are slated to gradually increase and many travelers will be inclined to stay within Egypt amid the pandemic.
Meanwhile, Egypt's Tourism Ministry has launched an awareness campaign in cooperation with the National Bank of Egypt to promote the country's history and monuments.
The coronavirus pandemic has prompted a period of reflection for the tourism industry, with many businesses being forced to reinvent themselves to adapt to the ever-changing situation, Kaoud said.
He called for an urgent support package for the industry to enable its survival, noting the need for businesses, governments, and organizations to work together to develop strategies to save the industry while promoting its sustainable growth.
With over 150 million travel and tourism jobs lost since the COVID-19 outbreak, more needs to be done to address the challenges faced by businesses, of which many are SMEs with limited resources, Kaoud said.
The United Nations World Tourism Organization (UNWTO) has reported that 53 percent of the world's destinations have begun to ease travel restrictions.
These destinations generally have high levels of health and hygiene infrastructure as well as a comparatively low COVID-19 infection rate, according to the UNWTO.
Kaoud pointed out that with Egypt's low infection rate and constantly improving hygiene standards and health infrastructure, the country is facing a great opportunity to attract foreign tourists.
The World Travel & Tourism Council (WTTC) and UNWTO have worked on numerous projects to help the industry, including the creation of new applications to help governments and the private sector observe the changes in the tourism industry and act accordingly.
A Tourism Recovery Tracker launched by the UNWTO allows governments and businesses to track the recovery of regional and global tourism.
The WTTC has released a dashboard that shows the recovery of travel demand using data from flight and hotel bookings. The program also compiles data from online search engines to show what travelers are looking for.
According to the dashboard, adventure travel is the fastest recovering travel category globally, experiencing just a ten percent decline in searches as compared to last year. Other categories such as urban, beach, and family travel are down 40 percent.
Additionally, the WTTC along with The International Chamber of Commerce (ICC) released a 'Quick Restart Guide for Employers' to provide businesses with recommendations to ensure operational readiness while limiting the risk of exposure to the virus within workplaces.
He stated that it is heart-warming to see how the industry continues to rally together to support one another and share expertise.
Kaoud recommended that Egypt's private sector and the Egyptian Government should collaborate with neighboring countries in the field of tourism and marketing to further strengthen their relationships and foster sustainable growth in the industry.
He pointed to Dubai, which has formed a committee to boost the UAE's meetings, incentives, conferencing, and exhibitions (MICE) sector.
The committee, which will be comprised of key industry stakeholders, aims to develop and promote Dubai as a host city for international business events, which play a crucial role in the economic development of a region.
According to Kaoud, Egypt should undertake a similar model and introduce a "calendar of events" that the whole region can benefit from.
He concluded by saying a successful tourism sector will only be built by the private sector, which adopts and applies the concepts of supply, demand, and competitiveness.