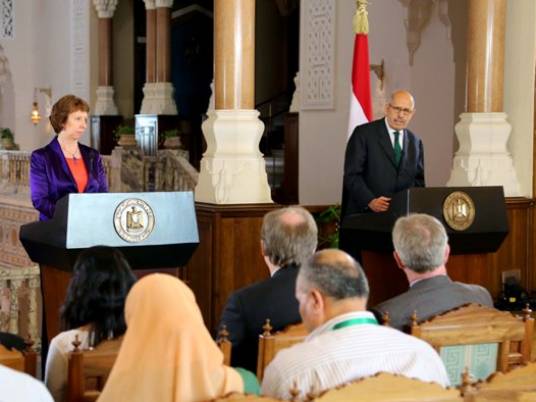 At a joint press conference with EU Foreign Policy Chief Catherine Ashton on Tuesday, Vice President Mohamed ElBaradei said ousted President Mohamed Morsy will no longer be part of political life because he has failed, but the Muslim Brotherhood is welcome to participate.
ElBaradei also said that Morsy is not a political prisoner, but is detained with others, pending investigation into several charges.
"When the violence stops, all those detained for security reasons will be released, and those on criminal charges brought to trial," he said.
"There are initiatives for the situation, but most important now is to stop the violence and form independent commissions for investigation," he added.
"We need to find a peaceful solution."
"The European Union is not mediating," he said. "It is providing ideas to help reach national consensus and move forward."
ElBaradei denied that there has been contact with the Muslim Brotherhood. "We are ready to negotiate with them in the future for a political solution," he said.
"We must resolve the matter ourselves, but we do welcome international efforts," he said, adding that the challenges Egyptians face concern how to stop all forms of violence, implement the roadmap, and reach reconciliation to live in peace.
For her part, Ashton thanked the Egyptian people for inviting her. "Egypt is a great country, and its people are great," she said. "The European Union is honored to help this great country."
She said that she came to talk with the different factions to see a way out of the crisis, and that she met with Defense Minister Abdel Fattah al-Sisi, interim President Adly Mansour, the foreign minister, the Nour Party, the Tamarod Movement, the Freedom and Justice Party, and Mohamed Morsy.
She said that she had one message to all, namely to stop the violence, consult with each other, and implement the roadmap. "I will come again to serve the case, but the fact remains that it is the leaders of this great country that will take the decisions," she said. "And I am optimistic."
Ashton declined to disclose her talks with Morsy. "I briefed him of our efforts," she said.
Edited translation from Al-Masry Al-Youm