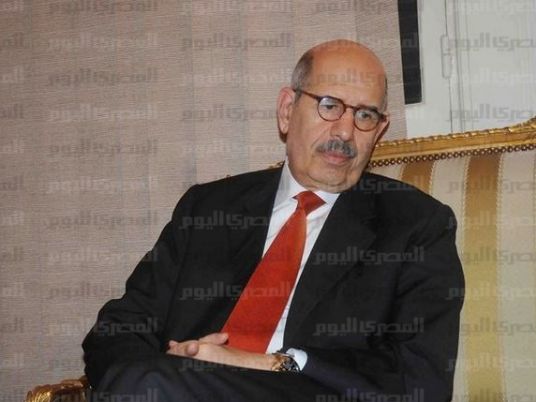 The former vice president Mohamed ElBaradei has responded on Twitter to TV host Ahmed Moussa, who broadcast telephone calls of ElBaradei through his talk show aired on the privately-owned Sada Al-Balad satellite TV channel on Saturday.
ElBaradei tweeted Saturday, saying "Private phone conversations of political opponents wiretapped, doctored and aired on TV. Fascism rearing its ugly head yet again."
The leaks showed ElBaradei talking about several political and media figures in the wake of the Janury 2011 uprising.
ElBaradei, who has previously occupied the post of head of the International Atomic Energy Agency, appeared on Saturday on Al-Araby TV in the first part of his interview.
This is his first appearance since 2013, when he resigned from the post of vice president in Adly Mansour's government, to express his refusal of the forcible dispersal of Rabaa al-Adaweya and Nahda sit-ins in which hundreds died.
The Nobel Laureate has been living abroad ever since.
The Sada Al-Balad show aired telephone calls in which ElBaradei said that the revolution is being aborted gradually and that the Egyptian people are ignorant.
He also said that the former chief of the Arab League, Amr Moussa, and the now-deceased scientist, Ahmed Zewail, were seeking own interests.
Edited translation from Al-Masry Al-Youm