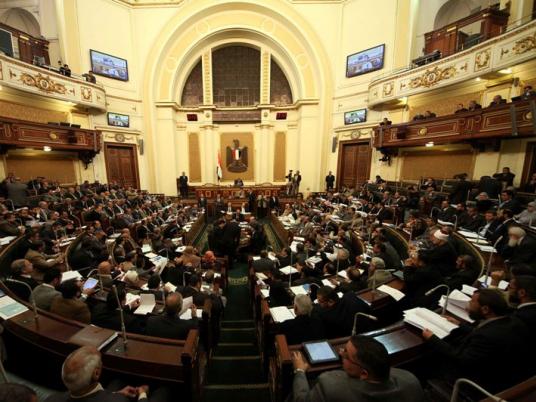 Shura Council Speaker Ahmed Fahmy said Wednesday he expects the upper house of Parliament to refer a draft law governing parliamentary elections for court review within 10 days.
If the Supreme Constitutional Court does not have reservations about the bill's constitutionality, it will likely become law immediately, Fahmy said in an interview with Al Jazeera.
He also expressed hope that upcoming elections for the lower house of Parliament would be transparent, calling it a "heavy" responsibility. He affirmed there would be judicial oversight of the vote in accordance with the Constitution and the law.
"I hope all candidates in the upcoming House of Representatives will be of highest competency," he said.
Omar al-Sherif, an adviser to the justice minister, was quoted on state-run Al-Ahram newspaper's website as saying the bill includes notable amendments, such as changing the name of the People's Assembly to the House of Representatives and canceling the president's right to appoint 10 MPs to the body.
Participants in a national dialogue session held by the government last week agreed on amendments to the parliamentary elections law. But some observers say the changes are not significant and do not provide solutions for the complexities of the current electoral system.
During his interview, Fahmy also discussed economic issues on the council's agenda, including bills regarding Islamic bonds and maximum and minimum wages.
"Applying the maximum wage rate is easy, but the minimum wage rate requires a very sound economic study … because you will be committed to it in front of people and you must provide financial [backing]," Fahmy said.
"The Islamic bonds will not be [issued] until a consensus with Al-Azhar is reached," he said, referring to a Finance Ministry-proposed bill allowing for the issuance of Sharia-compliant bonds, or sukuk.
A panel of Al-Azhar scholars has said the legislation threatens Egypt's sovereignty by allowing foreign investors to buy stakes in local enterprises. Fahmy said Wednesday that the council should also make sure the bonds would not harm the interests of the country.
The speaker also refuted allegations that the Shura Council seeks to issue laws that favor the Muslim Brotherhood, saying the council would not abuse its legislative powers.
Edited translation from Al-Masry Al-Youm