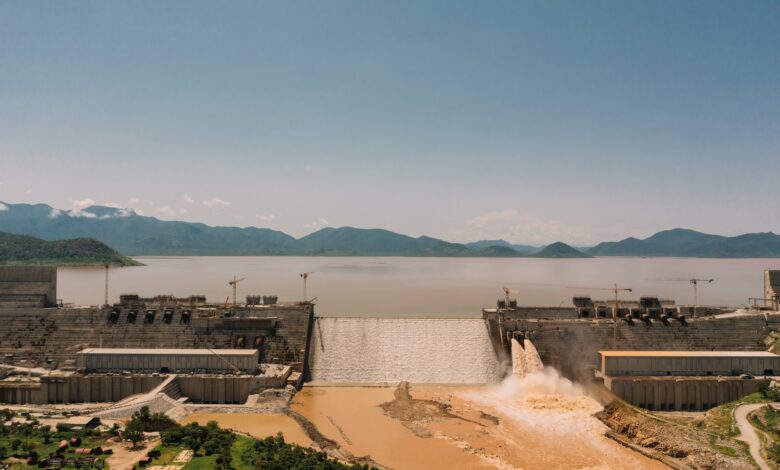 Egyptian MP and head of the Justice Party, Abdel Moneim Emam, questioned the Foreign Minister and Irrigation Minister about Ethiopia's plans to potentially build new dams on the Nile River, and where Egypt stands following the fourth filling of the Grand Ethiopian Renaissance Dam (GERD), RT reported.
Emam said: "I submit the following question to the Ministers of Foreign Affairs and Irrigation regarding Egypt's political options in the case of Ethiopia's continued disregard for Egyptian demands regarding the Renaissance Dam"
He added that the Egyptian Foreign Ministry issued a statement on September 10 expressing its condemnation of embarking on the fourth filling of the Ethiopian Renaissance Dam, and that Egypt is awaiting the next round of negotiations.
"Accordingly, I address the following questions to Foreign Minister Sameh Shoukry:
What are Egypt's political options if Ethiopia continues to ignore Egyptian demands? Does Egypt have a plan, regardless of its details and secrecy, in preparation for the failure of another round of negotiations? Is this plan written and can it be viewed by a special parliamentary committee formed for this matter?

What are the ministry's perceptions of the news circulating about Ethiopia's plans to build other dams on the Nile River, assuming this [news] is valid?

What are the international mechanisms adopted by the ministry to support the dam issue? How is the impact of these mechanisms measured?"
Emam also asked the following questions to the Minister of Water Resources and Irrigation:
"What is the current water situation in Egypt? What is the reserve status? What is the impact of the [GERD] filling on Egyptian water security?

What is the ministry's strategy for achieving water security in the event of continued Ethiopian intransigence against Egypt? If there is a strategy, is it secret or announced? Can it be presented before a special committee of the Parliament?"
Earlier on Sunday, Ethiopian Prime Minister Abiy Ahmed announced on X, formerly Twitter, that the fourth filling of the GERD on the Blue Nile has been completed, two weeks after a round of negotiations on the dam with Egypt and Sudan.
Negotiations remain unclear
Egypt and Sudan say they want a legally binding agreement on operating the dam, while Ethiopia says any pact should be advisory.
Both countries consider the dam a threat to their vital water supplies, while Ethiopia considers it essential for development and doubling its electricity production.
The downstream nations fear possible blows to water facilities, agricultural land, and overall availability of Nile water.
Negotiations over the dam between Egypt, Ethiopia, and Sudan have stalled for years, with the three parties ultimately failing to reach any agreements.
The disputed dam is the largest hydroelectric project in Africa, with a cost of more than four billion dollars.