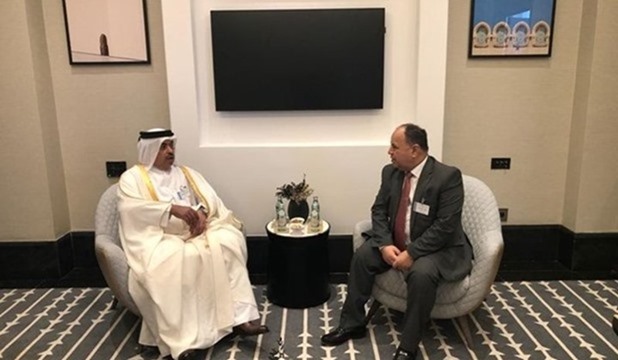 Minister of Finance Mohamed Maait held a meeting Sunday with his Qatari counterpart Ali bin Ahmed al-Kuwari on the sidelines of his participation in the meetings of the heads of the Arab financial institutions in Rabaat, Morocco.
The minister of finance stressed Egypt's keenness on boosting cooperation with Qatar in the financial, tax and customs domains, in a way that would help ameliorate atmosphere for bilateral trade and export.
Egypt is committed to pressing ahead with structural reforms, with a view to empowering local and foreign business sectors and helping support and increase the State's production and export abilities, as well as reinforcing the Egyptian economy's resilience, Maait said.
The minister accentuated the importance of the State Ownership Policy and its key role in opening the door wide before private investments, adding: "We are looking forward to luring more investments in the promising developmental sectors."
The minister, also, referred to the State's efforts to provide luring opportunities, especially in priority sectors  in light of a global tendency to move toward green transition; with great focus on renewable energy production, which all runs in tandem with Egyptian efforts aiming at expanding in eco-friendly investments based on incorporating the best-in-class infrastructure capable of meeting all needs related to the investment and production processes.
For his part, the Qatari minister hailed historical ties binding Egypt and Qatar. Qatar is a key investor in Egypt in all sectors, he said affirming strenuous efforts meant to incentivize Qatari investments in Egypt.
Meantime, al-Kuwari extended the invitation to the Egyptian minister to attend Qatar Economic Forum, set for Qatar on May 23 to 25.