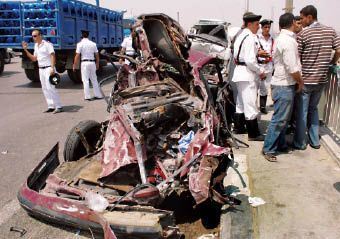 Five people were killed and 15 injured on Sunday when a taxi collided and truck crashed in the Dar al-Salam district of the Sohag governorate.
Dar al-Salam police station notified Sohag security chief Ahmed Aboul Fotouh of the incident, which occurred on the eastern agricultural highway.
According to police, the accident was caused by a motorbike trying the cross the road through passing traffic, resulting in a collision involving all three vehicles. The taxi was set alight and and the truck was damaged in a head-on collision.
The victims were transferred to several hospitals for treatment and an investigation is underway.
Egypt has one of the world's highest traffic accident mortality rates. Accidents are usually blamed on impetuous driving and bad road conditions.
In December, the government's Central Agency for Public Mobilization and Statistics (CAPMAS) said the number of car accidents during the first half of 2015 rose by 3.5 percent to a total of 6,916 accidents, compared with 6,685 accidents during the same period in 2014.
The number of deaths, however, decreased by 2.7 percent, from 3,025 to 2,808 deaths in the first half of 2015.
Edited translation from Al-Masry Al-Youm