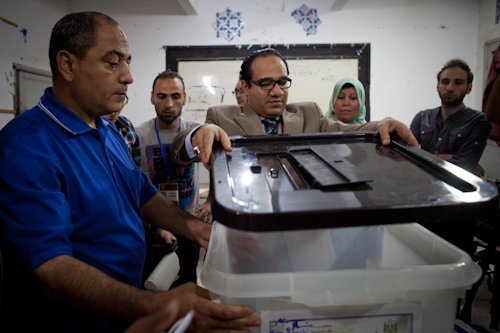 At least 20,000 Egyptian expatriate cast their ballots in the first day of voting on the draft constitution, Foreign Ministry spokesperson Amr Roshdy said as consulates and embassies abroad received voters for the second day Thursday.
Egyptian expatriates in the Gulf voted in the highest numbers, with 5,832 voters casting ballots in Kuwait, 3,881 in Riyadh, 3,335 in Jeddah, 2,500 in Doha, 1,844 in Abu Dhabi and 1,390 in Dubai, the ministry reported in a statement released Wednesday.
Roshdy noted that the referendum began Wednesday morning in 128 Egyptian embassies and consulates worldwide, and will continue until Saturday, 15 December. Voters may also cast their ballots by mail.
An estimated 586,000 expatriates have the right to vote in the referendum.
The Egyptian Embassy in Paris, France and the Consulate in Marseilles opened their doors Thursday, after turnout on the first day appeared less than average.
The designated diplomatic missions in various countries are also supposed to accept ballots by mail over the four days of scheduled voting abroad. Ballot papers can be obtained from the High Judicial Elections Commission's website.
Electoral committees are scheduled to begin counting ballots when voting ends at 8 pm Saturday.
The voting began Wednesday despite mounting dissent among diplomats over the referendum. Last month, 180 diplomats released a joint statement alleging that the Foreign Ministry had instructed them to defend President Mohamed Morsy's controversial constitutional declaration abroad.
Last week, more than 200 diplomats, including the ambassadors to Australia, Finland, Spain and Sri Lanka, announced they would not supervise the referendum following the deaths of protesters outside the presidential palace on 5 December.
Voting on the constitution draft comes amid rising polarization between Islamists, who support the document, and the opposition, who argue that the drafting process was hijacked by the Muslim Brotherhood and Salafi movements.
A large number of judges have refused to supervise the vote in Egypt, which is scheduled for 15 and 22 December.
Edited translation from Al-Masry Al-Youm