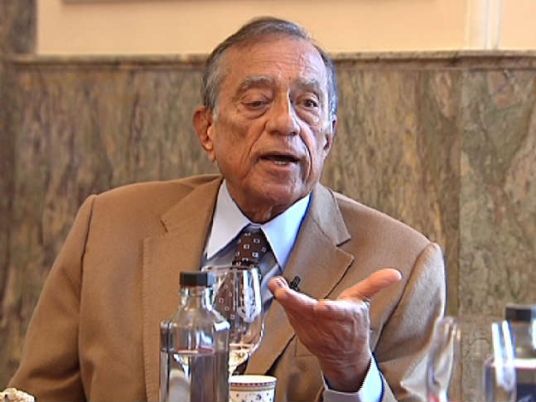 Fugitive businessman Hussein Salem said on Saturday he would return to Egypt as soon as possible.
His decision came immediately after a court acquitted former President Hosni Mubarak and former Petroleum Minister Sameh Fahmy in the case pertaining to the export of gas to Israel.
"Long live Egypt," Salem told the Al-Mehwar channel on the phone on Saturday evening, adding that he would also invest in the new Suez Canal project.
Salem fled to Spain during the 25 January revolution. Following Mubarak's resignation, Egypt called on Interpol to arrest Salem for bribery, abuse of power and squandering public money. During the regime of Muslim Brotherhood president Mohamed Morsy, Salem was under talks to waive half of his fortune in exchange for dropping all charges against him.
"This offer no longer exists," Salem's lawyer Tarek Abdel Aziz told Al-Masry Al-Youm in January. "Only my client will decide if he would come up with any new initiative."
The fugitive businessman was under investigation for evading payment of some LE90 million in taxes owed for a period of up to 15 years. The amount was due on returns from renting property in Heliopolis, the Movenpick Hotel and 18 villas in Sharm el-Sheikh. Assistant Public Prosecutor Adel Saeed said Salem did not formally notify the Tax Authority of these properties.
In June 2012, the Cairo Criminal Court sentenced Salem, a close ally of Mubarak, and former Petroleum Minister Sameh Fahmy to 15 years in prison for their involvement in Egypt's notorious gas deal with Israel.
Salem was accused of giving Mubarak and his two sons, Alaa and Gamal, luxury villas in Sharm el-Sheikh for free, although they are valued at more than 5 million euros, in return for Mubarak granting him more than 2 million square meters of land in the same area.
The Cairo Criminal Court acquitted the defendants on 2 June 2012, saying the sales in question occurred more than 10 years ago, which is beyond the statute of limitations for non-state employees to be prosecuted on corruption charges.