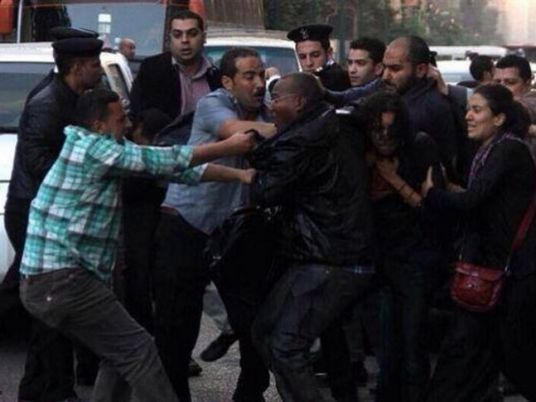 Rights advocates have recounted further alleged cases of detainees torture, with violations amounting to denial of medication.
Several allegations of prison torture have been reported since the ouster of former president Mohamed Morsi in 2013, with a number of them leading to death. The Interior Ministry systematically rejects the claims but has referred some of its workers to interrogators in a number of cases.
Mohamed Abdel Aziz, a lawyer and the head of Haqanya law firm, told Al-Masry Al-Youm that a convict serving a five-year sentence over protests in 2013 has been enduring "moral and physical torture" in prison.
Ahmed Abdel Rahman, who was handed five years for taking part in anti-government protests outside the Shura Council in November 2013, had been transferred to a cell along with 32 serious convicts, according to Abdel Aziz.
"There was no ventilation, no clothes and no visits. He was only allowed a T-shirt and underwear, which he had to wash and wait to dry up to wear again," the lawyer said, quoting the prisoner.
Abdel Rahman recounted an incident of flogging by one prison warden. Abdel Aziz explained that the prisoner's body does not currently bear signs of the assault having taken place longer ago.
"His mother is too old to come from Aswan to Cairo to visit him," said Abdel Aziz, adding that Abdel Rahman's only request is to be relocated to his older cell which he was forced to leave following a brawl with another inmate.
In another case, the Egyptian Commission for Rights and Freedoms, an NGO, said Sunday that authorities at Tora Prison have denied epilepsy medication for Hany Halim, a suspect arrested in April 2014 over charges of affiliation with the Muslim Brotherhood and financing its protests. He has not yet been referred to any trial.
Halim, according to the organization, was dealt electric shocks at several parts of his body and blindfolded for 11 days following his arrest by the National Security Agency.
It quoted his mother as saying that the prison wardens refused to let his family treat him at their expense, while prosecutors declined to record his health condition in their reports.
The organization said it has recorded 143 prison deaths from June 30, 2013 to June 1, 2015 due poor medical care.