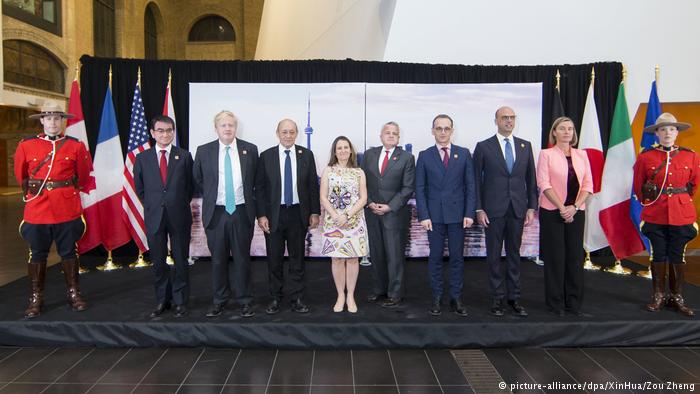 The Group of Seven (G7) industrialized countries have agreed to set up a working group to study Russia's "malign behavior," British Foreign Secretary Boris Johnson said on Monday.
G7 foreign ministers made the agreement, which has come amid heightened tensions with Russia over Syria and Ukraine, during a two-day meeting in Canada ahead of a G7 leaders' summit in June.
What Johnson said:
Johnson said: "What we decided yesterday was that we were going to set up a G7 group that would look at Russian malign behavior in all its manifestations – whether it's cyber warfare, whether it's disinformation, assassination attempts, whatever it happens to be and collectively try to call it out."
"Russia is so unbelievably clever at kind of sowing doubt and confusion and spreading all this fake news and trying to muddy the waters."
"We think there's a role for the G7 in just trying to provide some clarity."
From G8 to G7: The current G7 countries decided in 2014 to expel Russia from what was at the time called the G8 after Russia annexed the Crimea peninsula from Ukraine. Current members include: The US, UK, Canada, France, Italy, Germany and Japan.
Russia's transgressions: G7 countries have in recent years criticized Moscow's foreign policy, including its support for separatist rebels in eastern Ukraine, its intervention in the Syrian civil war and its cyber attacks on the US and European countries.
US sends deputy: The US was represented at the G7 meeting in Canada by Deputy Secretary of State John J. Sullivan. Mike Pompeo, who has been nominated to be the next US Secretary of State, could not attend because he still needs to be confirmed by the US Senate.
Iran factor: German Foreign Minister Heiko Maas said on the sidelines of the meeting that Germany and France would push Trump to stay in the 2015 Iran nuclear deal in the next few weeks. The deal's future is uncertain after US President Donald Trump set May 12 as a deadline to "fix the terrible flaws" of the agreement or reapply US sanctions on Iran.
What happens next? Government leaders including US President Donald Trump and German Chancellor Angela Merkel are set to meet for a two-day summit on June 8-9 in the eastern Canadian town of Charlevoix.