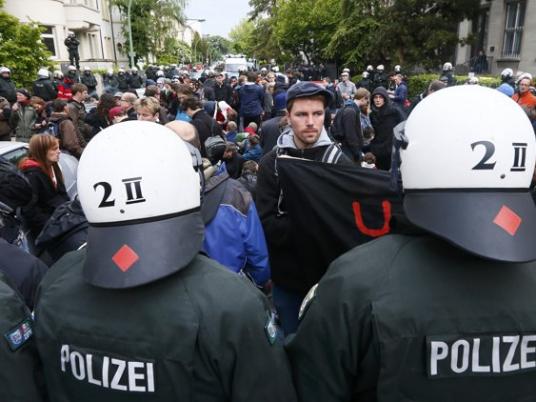 The German foreign minister has announced that German think-tank Friedrich Naumann will likely return its Middle East operations office to Cairo, reversing its former move to Jordan due to alleged restrictions imposed by the Egyptian government.
On Sunday, German Foreign Minister Frank-Walter Steinmeier told German weekly newspaper Welt am Sonntag that Friedrich Naumann would be returning to Cairo, but that the German and Egyptian governments are still working on ensuring the think-tank is allowed to conduct its activities without undue interference.
In January, the think-tank — which promotes rule of law, human rights and democracy — finally closed its Egypt office following disputes with authorities in Cairo over alleged restrictions on their operations, which were deemed to be politically sensitive and potentially in breach of Egyptian law.
The Associated Press reported at the time that Friedrich Naumann had decided it could not do its work within such tight limitations, and would be closing the Egypt branch of its operations entirely. The move to new regional offices in Jordan had already started in 2014, with only a small liaison office left in Cairo.
Chairman Wolfgang Gerhardt said in January that, "every political seminar, every conference that we organize with our Egyptian partners is misunderstood as a possible threat to the internal security of Egypt. We have no basis to operate," AP reported at the time.
However, since then, the German government has intervened on the behalf of the think-tank, seeking to reach an accommodation with the Egyptian authorities.
Two weeks ago, the German Foreign Ministry summoned the Egyptian Ambassador to Berlin, Badr Abdel Aaty, to explore the possibility of reopening the Cairo office, according to Al-Masry Al-Youm.
In mid-May, the German Foreign Ministry stated that the Egyptian Foreign Ministry had refused Friedrich Naumann permission to carry out maintenance on its Cairo office.
Since that time, the Egyptian Foreign Ministry has clarified its concerns about the think-tank's operations and the alleged intransigence of the German government on the issue.
The Egyptian Foreign Ministry said it supports the legalization of the German foundations' work in Egypt, but that Germany had rejected various initiatives to that end which had been suggested by Egypt, Aswat Masriya wrote on May 13.
In an official statement, the Egyptian ministry stressed that the work of non-governmental organizations in Egypt "should be within a legal framework," reported Aswat Masriya.
However, the German foreign minister's comments on Sunday appear to indicate that the two nations have reached an agreement that would allow the think-tank to return to Cairo, although no details were given as to what this might entail.
The think-tank's chairman, Gerhardt, a member of the German Free Democratic Party, has previously said that misunderstandings over the organization's work have caused them to be viewed as spies by some countries.
Egyptian authorities have been the subject of international criticism over their tight restrictions on NGOs in recent years. In late 2011, Egyptian authorities staged a crackdown against several NGOs over allegations of illegal foreign funding, drawing criticism from human rights advocates.
Foreign-funded NGOs have long been accused of taking part in subversive activities in Egypt aimed at changing the regime.