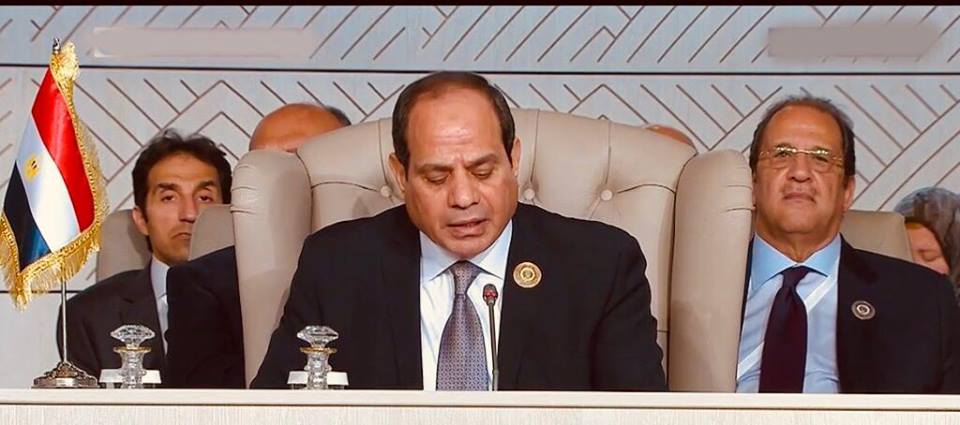 During a speech at the 30th Arab League Summit in Tunisia on Sunday, President Abdel Fattah al-Sisi said that the Golan Heights shall return to Syrian sovereignty before the Arab-Israeli peace process is initiated.
According to Egypt's State Information Service (SIS), Sisi said that there is no way out of the Arab-Israeli conflict except through reaching a just and comprehensive peaceful solution that returns the rights of the Palestinian people, namely their independent state with East Jerusalem as its capital.
Sources at the Arab league explained that US recognition would not change the legal statues of Golan heights, which is Syrian land occupied by Israel since 1967.
Sisi explained that this summit comes at a critical juncture in the history of our Arab nation when challenges and crises have increased and missions required to confront them are complicated.
The president asserted that the Arabs have chosen peace and their hands are still stretched out for comprehensive and just peace.
He called for a prompt move within the framework of the Geneva Peace Talks to reach peace in Syria.
"It is high time the Arab bloodletting has stopped," Sisi said.
The summit will also discuss following up the political developments in Palestine and the Arab-Israeli conflict as well as activating the Arab Peace Initiative, which calls on international parties to hold a conference to foster the peace process.
The Arab League also will discuss economic issues including collaborative Arab social and economic work, the implementation of the 29th Arab League Summit's resolutions, and the economic empowerment of Palestine.
Edited translation from Al-Masry Al-Youm