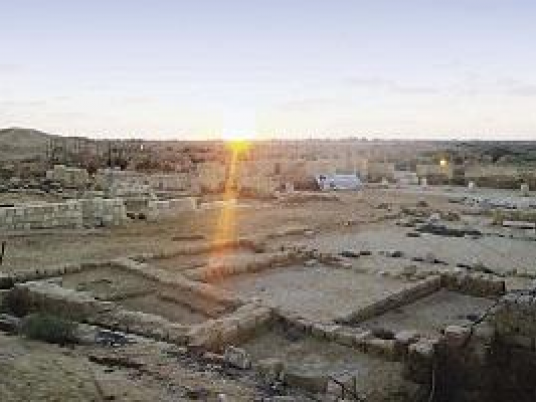 The archaeological city of Abu Mena, west of Alexandria, the only Coptic archeological site in Egypt registered on the UNESCO World Heritage list, is threatened by the 5.5 meter rise of groundwater levels in the area.
Abu Mena, which is an important Christian pilgrimage destination, is located in the city of Borg al-Arab, about 120 kilometers west of Alexandria.
The 970-acre city includes a monastery, a church, and an archaeological cemetery of Saint Abu Mena, which has been completely flooded by groundwater.
The Ministry of Antiquities has implemented a project to decrease the groundwater level in the area to 2 meters in 2010. The project was implemented over three stages and cost LE50 million, according to head of the Engineering Management of Lower Egypt and Sinai Antiquities Mohamed Reda Youssef.
The improper maintenance of the 170 water pumps placed to eliminate excess water from the area threatens that the project will fail, he said, pointing out that about 40 pumps are currently working, which has caused the water levels to increase again.
The maintenance of pumps needs about LE3million annually, according to Youssef. Since 2010, there has been no maintenance.
Former head of the Islamic, Coptic and Jewish Antiquities sector in Alexandria, Mohamed Ali Saeed said the Abu Mena city could be removed from the UNESCO's world's heritage sites' list as it is currently on the red list of endangered areas.
Saeed called for the formation of a board of trustees, representing various ministries and bodies concerned with antiquities, including the ministries of Culture and Antiquities, to take care of Abu Mena city.
"The state has failed, in light of political changes and bad economic conditions, to provide financial resources for the proper maintenance of the site. Frequent power cuts have also contributed to the problem," said Father Tadawos Ava Mena of Saint Mena Monastery.
Edited translation from Al-Masry Al-Youm