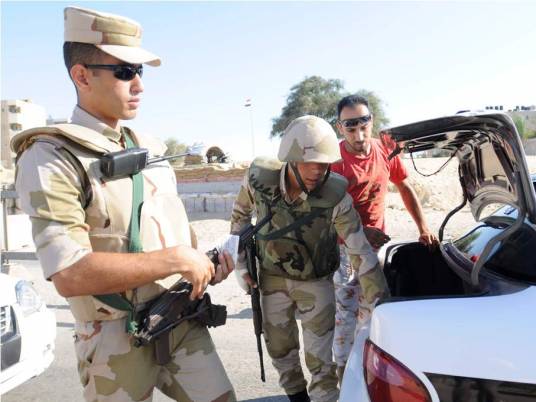 Unidentified gunmen fired on Al-Risa checkpoint in Sinai on Thursday, according to the state-owned MENA news agency. This is the 48th incident in which the army position has come under attack since Egypt's January 2011 revolution.
Gunmen attacked the checkpoint on the Arish-Rafah International Road, forcing soldiers to respond with gunfire and attempt to chase the assailants down.
No injuries were reported in the attack.
Witnesses said the gunmen targeted the checkpoint from hilly areas nearby.
The checkpoint had been attacked 47 times since the January revolution, the most recent of which was on 20 August. It is manned by both army and police forces.
Meanwhile, German news agency DPA said Arish residents reported hearing a loud explosion on Thursday when a military bulldozer hit a landmine.
The vehicle was removing olive trees to expand a checkpoint to the south of the city. No injuries were reported.
Army and police troops combed the area in search of suspects, while Apache helicopters hovered over the vicinity.
A medical source at Arish Hospital also said a young man was shot dead by unidentified gunmen near the village of Al-Qareea, south-east of Arish. The young man died on route to the hospital. He was shot in the head, neck and chest.
Prosecutors have opened an investigation into the incident.
Edited translation from Al-Masry Al-Youm