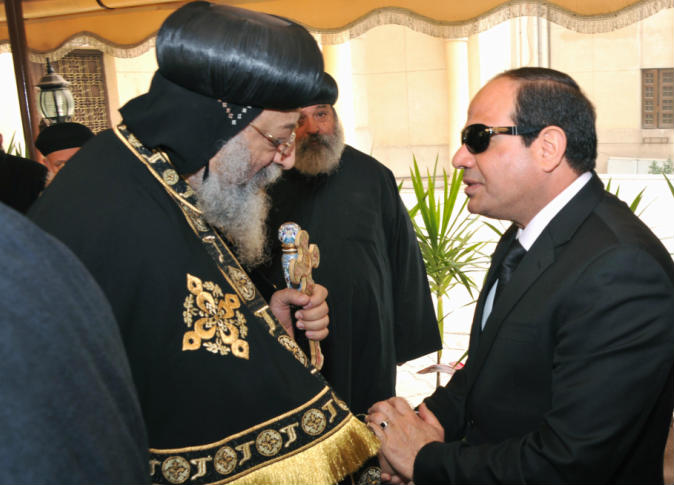 Pope Tawadros II, Pope of Alexandria and Patriarch of the See of St. Mark, said that he believes that the hand of God is choosing the president, and praised the sound and open Egyptian education which president Abdel Fattah al-SisI was raised with.
During a meeting with a delegation from the Evangelical Church headed by Andrea Zaki, the Pope said that Sisi has a balanced vision, and that the Copts of Egypt now have a role and influence under his presidency.
Pope Tawadros II added that his first meeting with Sisi came during the Muslim Brotherhood's rule, when Sisi was the Defense Minister, and the Pope touched on the extent of his intellectual and national openness.
He pointed out that Coptic Christians of Egypt have demonstrated their love for their nation in various situations and challenges witnessed by the country. He emphasized on more than one occasion that a homeland without churches is better than having churches without a homeland.
Tawadros said that the harmony between Sisi, and the church is a blessing from God. He then joked that he and Sisi were both born in November and that the difference in their age was only two years and two weeks, and some may attribute the close affinity between them for those reasons.
He highlighted that Egypt's diversity and weight demands a loyal man to run the country. He added that Sisi is a man who understands the value of time and hard work.
Preliminary indicators and exit polls indicate that an estimated 25 million people participated in the 2018 Egyptian presidential election, bringing the election turnout to 40 percent.
Results indicated that Sisi obtained approximately 23 million votes, accounting for 92 percent of total votes. His competitor Moussa Mostafa Moussa is estimated to have obtained 3 percent of the vote.
Edited translation from Al-Masry Al-Youm